For those of us who grew up in the 1950s, a book from that era that stands out is John F. Kennedy's Profiles in Courage about people in government who publicly stood for causes because they strongly believed in them, not because they stood to gain from their political position. The book featured eight United State senators cited for their courage. JFK won the Pulitzer Prize for that book, which was generally acknowledged to have been ghost-written by his speechwriter, Theodore Sorensen.
I expect that many of us in today's increasingly dystopic political world agree that a significant percentage of people in political life are not behaving as public servants but simply acting in their self-interest. For many of them, it's not a matter of courage as much as it is a matter of cowardice, as manifested by their votes to acquit on Feb. 13, 2021.
My list of political cowards increased extensively following the results of this post-impeachment trial. The position of all but seven of the Republican senators, following overwhelming evidence of guilt and life-threatening dereliction of duty on the part of our former president, was to vote to acquit him. That president even put the life of his own servile vice president, as well as many other government officials, at grave risk. With only a small shift in what happened that day, many of them would likely have been killed.
I believe that the central reason of his malfeasance being overlooked by so many is that America is still fighting the residues of the Civil War. Our nation is heading toward becoming a "minority-majority' country by the early 2040s, and white nationalists feel threatened by their loss of dominance. So even though this past president's behavior was characterized by criminality and incompetence, that is apparently good enough for the white nationalists who revere him because of his attempts to protect their previous dominant status.
The primary battle cry of that fateful day of January 6, 2021 from our then president was "if you don't fight like hell you will lose your country!" And remember the racist references when Obama was President about his birth certificate, and that Trump stands staunchly against the removal of any Confederate statues or Confederate names from military bases as has been recommended.
Today's new administration is filled with eminently qualified people from different backgrounds, races, national origins, and religions, and that is a threat to white nationalists. The impeachment prosecution team itself was run masterfully by people who exemplify the beauty of this new America.
The only rational explanation today for overlooking the obvious criminal malfeasance of the former president by his followers is their feared loss of status as white men. Thus, the threat to our democracy today may be as strong from within our borders as from without, demanding the full attention and involvement of each of us, who presumably can exercise our own profile in courage!         
---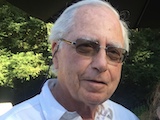 Longtime OLLI member and volunteer Hugh Winig, MD is a retired psychiatrist and is the author of a book of short stories and a book of humanistic aphorisms. He was a founding Trustee of the Lafayette Library and Learning Center and a past President of the East Bay Psychiatric Association.