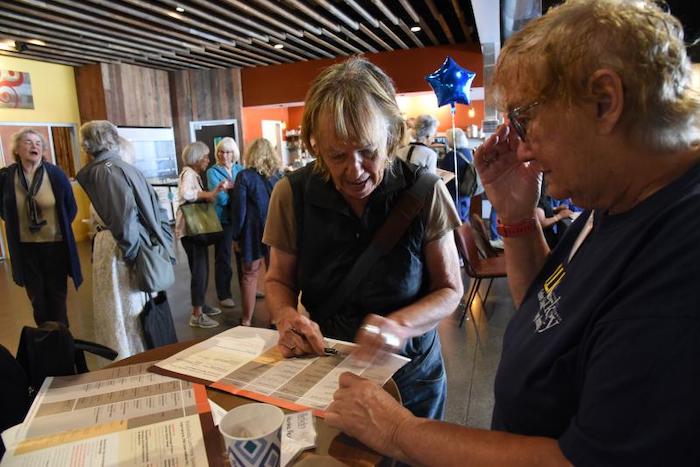 At OLLI @Berkeley, we rely on the energy, enthusiasm and powerhouse volunteerism of our members to help make our program the best it can be. We are grateful to the committee members noted here and to the many other volunteers who contribute in important ways, from leading Member Meetups to serving as class hosts.
Curriculum Committee 
The Curriculum Committee reviews course proposals, meets with prospective faculty and advises OLLI staff on the curation of future academic terms.
Co-chairs: Susan Chamberlain, Linda Wing 
Members: Amy Chung, Susan Driscoll, Ann Peden, Linda Perkins, Lucille Poskanser, Hugh Winig
Staff: Susan Hoffman, Matt Shears
Development Committee 
The Development Committee members help plan the annual fund campaign (which accounts for nearly 10% of our operating budget) and spearhead personal fundraising outreach efforts.
Co-chairs: Mark Medress, Wendy Willrich
Members: Gerry Kaminski, Mike Maidenberg, Eileen Savel, Murray Schlussel
Staff: Susan Hoffman, Nancy Murr
Lafayette Planning Committee
The Lafayette Planning Committee provides important insights and outreach into Lafayette and neighboring communities.
Co-chairs: Hugh Winig, Nikki Maziasz
Members: Marty Aufhauser, John Daws, Tom Francis, Christina Janssen, Howard Janssen, Hugh Winig
Staff: Susan Hoffman, Matt Shears
Member Services Committee 
The Member Services Committee works to build a strong sense of community and belonging within our membership by organizing and leading field trips, socials and other events throughout the year.
Co-chairs: Joan Greer, Jerry Kaminski 
Members: Valerie Knepper, Hugh Livingston, Stella Livingston, Susan Sperber
Staff: Nancy Murr
Research Advisory Team
This group identifies UCSF/UCB-based research opportunities for OLLI member participation, conducts inquiry projects focused on teaching and learning, and explores ideas and issues to inform the curriculum or the OLLI member community.
Members: Lorraine Midanik, Sara Orem, David Presti, Peter Ralston
Staff: Susan Hoffman