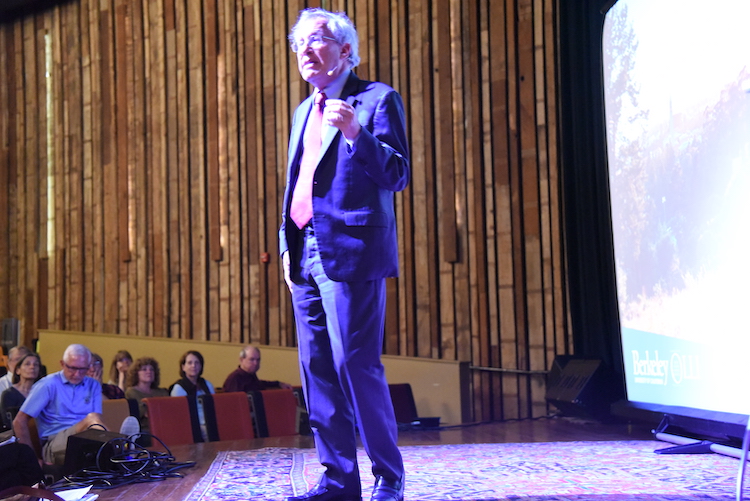 Berkeley Law Dean Erwin Chemerinsky at an OLLI lunchtime speaker event
Throughout the year, OLLI @Berkeley showcases leading figures in their fields discussing some of the most pressing issues of our time. Recently, scholars have explored constitutional rights, the climate crisis, Nordic capitalism, Putin's Russia, the #MeToo movement, bio-inspired design, the politics of waste, and more. These events are free and open to the public. Check our calendar for upcoming events and links to join.
---
America's Unfinished Work Series
Launched in the summer of 2020, our America's Unfinished Work series features presentations by influential figures engaged in the examination and eradication of systemic racism to create a more humane, just and equal society. 
PRESENTATIONS ON YOUTUBE
---
Climate Change & the Environment
We regularly host preeminent researchers, scientists and policy advocates at the forefront of fighting the climate crisis and its extreme impacts. 
PRESENTATIONS ON YOUTUBE:
What is the Just Transition?: Climate Science and the Fight for Justice with Dan Kammen, Distinguished Professor and Director of Renewable and Appropriate Energy Laboratory, UC Berkeley
The Hard Part: Turning Climate Solutions into Policy at Scale with Ken Alex, Director of Project Climate at Berkeley's Center for Law, Energy, & the Environment.
Understanding Wildfire and its Impact on California with John Battles, Professor of Forest Ecology, UC Berkeley,
Finding Hope (for Biodiversity Conversation) in an Era of Rapid Global Change with Erica Bree Rosenblum, evolutionary anthropologist and professor, UC Berkeley
The Clean Energy Transition and COP26 with Dan Kammen, Distinguished Professor and Director of Renewable and Appropriate Energy Laboratory, UC Berkeley
The EPA Reset with Alexis Strauss Hacker, former EPA acting regional administrator and Michelle Roos, Executive Director of the Environment Protection Network
How to move climate solutions forward faster with Ken Alex, Director of Project Climate, UC Berkeley
The Green Revolution with Dan Kammen, Distinguished Professor and Director of Renewable and Appropriate Energy Laboratory, UC Berkeley
---
Town Halls
OLLI @Berkeley Town Halls provide an invaluable forum for members and guest speakers to ponder, challenge and better understand timely issues impacting our communities, country and world.
---
Speaker Series
The following presentations were held online and are viewable on our YouTube channel.
The Enduring Power of Connecting the Generations with Marc Freedman, CoCEO and Founder of CoGenerate
Mark Twain Revealed: A Conversation on Twain's Autobiography and Other Revelations with Bob Hirst and Linda Haverty Rugg, UC Berkeley 
Ukraine: What's Happening Now and What Might Happen Next with Dr. Michael Baker and Anastasia Edel
Becoming God in Ancient Egypt: Beliefs in Life After Death with Rita Lucarelli, UC Berkeley
Is the American Dream a Nordic Reality? with Robert Strand, executive director of the Nordic Center, UC Berkeley
Russia's invasion of Ukraine with Professor Emeritus George Breslauer and economics professor Yuriy Gorodnichenko, UC Berkeley
Robert Full on Bio-Inspired Design: Compressed Cockroaches, Gliding Geckos, and Smart Squirrels, Professor, Howard Hughes Medical Institute Professor of Integrative Biology, UC Berkeley
Amy Eva on Caring for Ourselves: The Science of Emotional Resilience, Associate Education Director, Greater Good Science Center, UC Berkeley
Bill Sokol on The American Rescue Plan Act: $1.9 Trillion Where and When It's Needed, labor lawyer and San Francisco State Lecturer
Robert Strand on Building a Resilient Society: The Case of Nordic Caplitalism, Executive Director, Center for Responsible Business, UC Berkeley
George Breslauer on the myths and realities of Putin's Russia, professor emeritus, UC Berkeley
Mary Hughes on "Our Winning Women: Lessons to Hurry History," founder, Close the Gap CA
Harry Chotiner and Michael Fox on what happened to the movies in 2020, noted film historians and critics
Erik Peper on how to stop technology from hijacking our lives, professor of holistic health, San Francisco State University
Annice Jacoby on street art in an age of pandemic, protest and politics, artist, activist and author 
Allison Harvey on how to improve sleep, Director of the Golden Bear Sleep and Mood Research Clinic, UC Berkeley
Deirdre English on how journalists view the #MeToo Movement, lecturer, UC Berkeley, and former Editor-in-Chief of Mother Jones 
---
Listen to Podcasts
We are delighted that a number of OLLI presentations have been showcased on Berkeley Talks, a UC Berkeley news podcast.