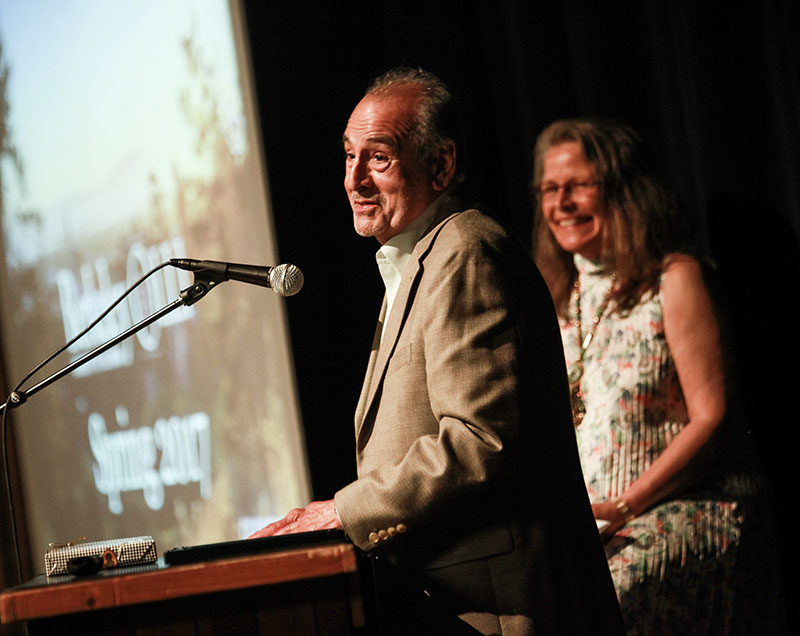 On Wednesday, May 3, 2017 the Osher Lifelong Learning Institute was honored to present the second annual OLLI at Berkeley Excellence in Teaching and Learning Award to Alex Saragoza, professor emeritus of ethnic studies. 

This award is given annually to a UC Berkeley faculty member who teaches at OLLI and who has demonstrated an ongoing commitment to engaged learning, both in the classroom and in the world outside the university. 
Alex Saragoza has taught 10 courses for OLLI since 2009. Most were centered around Latin American and Spanish history as well as Latino culture in the Unites States, corresponding with his academic focus on the intersections of Latin American history with that of the United States as a consequence of migration. He has also led several travel study trips with OLLI to Spain and Cuba, building a reputation as a lecturer, dancer, and oenophile.
The son of farm workers, professor Saragoza earned a B.A. at CSU Fresno, then an M.A. at Harvard. Following a stint teaching high school in Merced, he completed a Ph.D. in Latin American History at UC San Diego in 1986. He has taught at UC Berkeley since 1986.
Many of the speakers stressed Alex's contributions to the campus and the broader community. Shari Huhndorf, Chair of Ethnic Studies, mentioned Alex's many contributions to his department as well as his collaboration with schools in the Oakland Unified School District that were developing Ethnic Studies programs. Julian Ledesman, currently the director of Berkeley's Educational Opportunity Program, described his experiences as a first-semester freshman in Alex's Chicano Studies 50 class: "Alex was the first faculty member to make me feel that I belonged on this campus… that I, as a first-generation college student from an under-represented group, had something to offer UC Berkeley."
OLLI members also highlighted Professor Saragoza's engaging lectures and his dedication to his students. As member Howard Janssen put it, "Alex takes it as his personal responsibility to make sure everyone feels included."
The Osher Lifelong Learning Institute offers approximately 100 courses each year, many taught by Cal faculty and emeriti. Last year's recipient of the OLLI at Berkeley Excellence in Teaching and Learning was Professor Daniel Kammen, Pro­fes­sor of Energy with appoint­ments in the Energy and Resources Group, The Gold­man School of Pub­lic Pol­icy, and the Depart­ment of Nuclear Engi­neer­ing.
Photo: Christina Hernandez