Meet the Member Dashboard
All OLLI members have their own Member Dashboard, which is created automatically when they first become members. It is unique to them. The Member Dashboard includes essential information in distinct blocks:
My Schedule includes course schedule(s) and the Zoom link(s) to access livestream classes;
My Course Materials includes YouTube links to class videos, reading materials and more.
My Membership shows contact information, account information, communications preferences, password and more.
---
How to access your Member Dashboard
To access the Member Dashboard, you must first log into your OLLI account. If you are not already logged into your OLLI account, you'll see "LOG IN" in the menu. Click that and then enter your OLLI ID and password.

If you're already logged into your account, but browsing elsewhere on the site, you'll see "LOG OUT" (rather than "LOG IN") in the menu. Click "MY ACCOUNT" which will take you directly to your Member Dashboard.

---
How to reset your password 
Enter your username or email here and click "Log in."
You will see an error message. Click "Have you forgotten your password?"
Enter your username or email address and click "Email new password."
You will receive an email with further instructions. If you have not received the email within five minutes, please check your Spam folder.
---
Where to find the Zoom link to your livestream class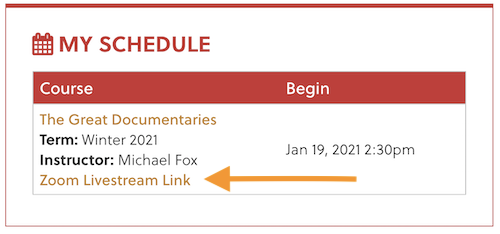 Zoom links are posted in My Schedule under the course title. Each course has it's own unique link.
---
How to access your Zoom livestream class
Follow these simple steps to ensure swift and easy access to your livestream class:
1. Sign Up for a Zoom Account 
You must have your own Zoom account to access all OLLI livestream courses and events
Sign up for a FREE Zoom account at zoom.us if you don't have one already. It takes less than a minute to set up.
Already have a Zoom account? Great! You're good to go.
This extra step is required by UC Berkeley to help ensure a safe and secure Zoom experience.
2. Do This a Few Minutes Before Class Begins:
Log into your Zoom account FIRST.
THEN click the livestream link listed in your Member Dashboard to zip into class.
The vast majority of Zoom access issues arise because the clicking happened out of order. So, 1) log into Zoom first, 2) click your class livestream link, then 3) enjoy the learning.
---
Where to find course materials and videos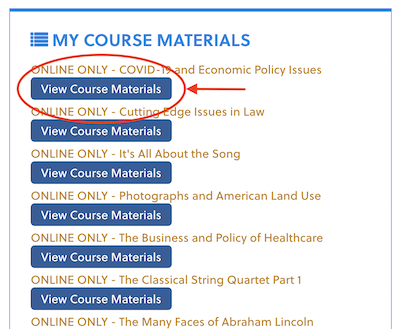 Course materials, including recommended readings and videos (if applicable), are posted in My Course Materials. Click View Course Materials to access.
---
How to view class videos
Click View Course Materials under My Course Materials to access class videos (if applicable). Then click on the YouTube video image to watch.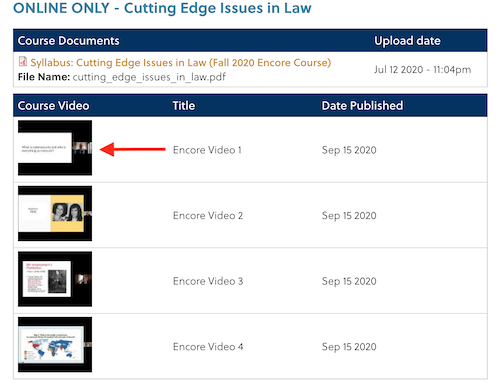 You DO NOT need Zoom to watch a pre-recorded video. 
You may either watch it directly in Course Materials or click the small "YouTube" logo on the bottom right corner of the video to watch it on YouTube, where you have the option to view it full screen.
Please note:
Livestream + Recorded videos post weekly starting the first Friday of term, and remain in your account to the end of term.
Encore pre-recorded videos post in their entirety on the first day of term and are available to view to the end of term.