It's safe to say that past several months have been — how to put it? — eventful ones.
Now that we've tucked two all-remote-learning terms and a busy Summer Bridge program under our proverbial belt, we can confess that many of us on our side of the screen — OLLI faculty and staff — felt trepidation about the transition to online. (We know many members did, too.) We were, and remain, working from home. 
Would our tempermental home internet connections hold out during the classes and speaker events, we wondered? (The answer is sometimes yes and sometimes no, which is why we always have at least two classroom coordinators recording each class.) How would our arthritic laptops and overtaxed hard drives hold out? (Some didn't survive, so the office had to purchase new ones.) 
Through it all, week after week, members logged in, faculty shared their expertise and their screens, classes zipped along, and everyone became more comfortable with the Zooming experience. So comfortable that Chat Boxes filled up with questions (of course) and expressions of gratitude (so appreciated).
Don't just take our word for it...
This is just a tiny sampling of the cheers and applause our faculty were delighted to receive.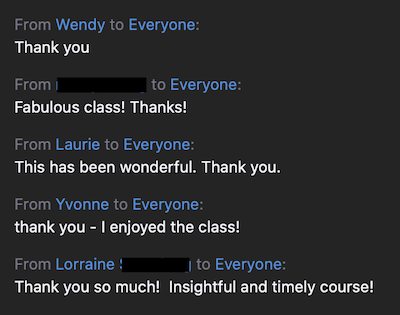 Thank you to everyone who's chosen to dive into this new learning landscape with us. We're excited about our fall term — live, interactive and online —and look forward to you being a part of it.