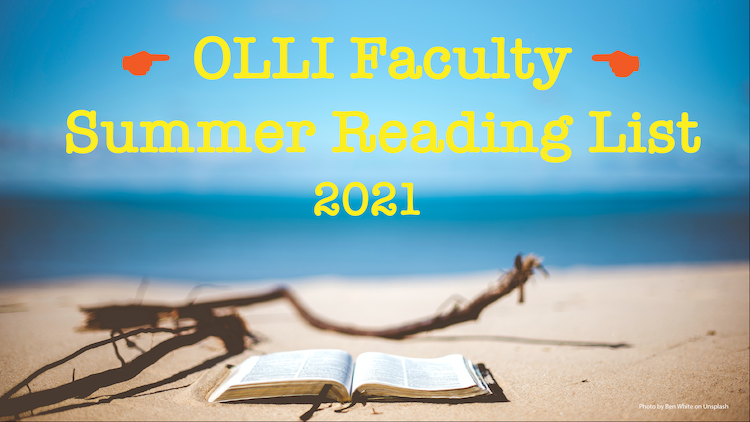 It should come as no surprise that when we asked faculty if they'd like to contribute to a possible summer reading list, our inbox runneth over. In most instances, the titles link to Oakland's Marcus Books, the nation's oldest Black-owned independent bookstore. Enjoy!
---
Michael Baker
In The Plot to Betray America: How Team Trump Embraced Our Enemies, Compromised Our Security, and How We Can Fix It by renowned intelligence expert Malcolm Nance reveals exactly how President Trump and his inner circle conspired, coordinated, communicated, and eventually strategized to commit the greatest acts of treachery in the history of the United States: compromising the presidential oath of office in exchange for power and personal enrichment.
Gibor Basri
I was very impressed with The Righteous Mind: Why Good People Are Divided by Politics and Religion by Jonathan Haidt. It goes a long way to explaining why we have such political polarization and why it is so hard to overcome it. Actually it is fundamentally about how humans behave.
George Breslauer
The Code Breaker: Jennifer Doudna, Gene Editing, and the Future of the Human Race by Walter Isaacson: A bracing inside-view of competition and collaboration — but mostly competition — in global Big Science, and how UC Berkeley's own Jennifer Doudna navigated these treacherous waters to win a Nobel Prize in 2020.
Linda Carucci
Six Seasons: A New Way with Vegetables by Joshua McFadden with Martha Holmberg. What I love most about this cookbook is that it divides the growing/cooking/eating year into spring, early summer, midsummer, late summer, fall, and winter. Hallelujah for us Bay Area cooks! The chef/author was smart enough to find an award-winning journalist to co-author this gem, delighting anyone who (also) enjoys the pleasures of reading a cookbook from cover to cover. 
In Bibi's Kitchen: The Recipes and Stories of Grandmothers From the Eight African Countries that Touch the Indian Ocean by Hawa Hassan with Julia Turshen. Fascinating interviews and stories of African bibis (grandmothers) from Eritrea, Somalia, Kenya, Tanzania, Mozambique, South Africa, Madagascar, and Comoros, and the food they love to cook. Beautifully written with stunning photography throughout.
Harry Chotiner
Figuring by Maria Popova: The best and most fascinating book that I've read in years — portraits of men and women (mostly women) who shaped our cultural and intellectual history from the Transcendenalists though Virginia Woolfe — mostly people that I'd never heard of and was delighted to make their acquaintance. Popova is also wicked smart in what she sees in their lives and their work.
The Price of Peace: Money, Democracy, and the Life of John Maynard Keynes by Zachary Carter: A biography of Keynes whose brilliance is explained to those of us who don't know economic theory, whose political life was equally dazzling and controversial, and whose personal life (he was part of the Bloomsbury group) was perhaps the most interesting of all.
Time of the Magicians by Wolfram Elenberger: If you ever wondered about who exactly were these famous names like Wittenstein, Beniamin, Cassirer, and Heidegger — here's your introduction to each of them and to their relationships with each other.
But What If We're Wrong by Chuck Klosterman: A deliciously fun exploration about how to consider that we might be wrong about our most basic, bedrock assumptions.   
Kip Cranna
Cleopatra by Stacy Schiff. This Pulitzer-Prize-winning 2010 biography, written in clear and elegant, non-scholarly prose, paints a vivid portrait of one of history's most fascinating women (the subject of many operas!) and helps counter many of the myths and slanders that have clouded her image through the ages.
Pete Elman
Intangibles: Unlocking the Science and Soul of Team Chemistry by Joan Ryan. I am recommending this terrific and timely book because it delves in depth, with great detail and wonderful writing and using real-world examples from the world of sports, the military and business, into what makes a great team or organization and why they are so important to our society.
Annice Jacoby
On Earth We're Briefly Gorgeous by Ocean Vuong. This book is great literature because it is LIT from within by a luminous voice. This intimate telling of the diaspora of war shuns neither horror or beauty.
Douglas Kenning
First, thinking of my Sicily course: The Leopard by Giuseppe Tomasi di Lampedusa. This stands on anyone's list as one of the great novels of the twentieth century. Wise, with an adult pacing, as is the excellent movie by Visconti. 
Regarding our basic humanity: Sapiens, by Yuval Noah Harari. I know of no book for the general public that explains better who we are and how we got to where we are now.
Sarah Levin
When We Were Arabs: A Jewish Family's Forgotten History by Massoud Hayoun. This is an engaging account of the author's grandparents' lives in Egypt, Tunisia, Palestine, and Los Angeles, that manages to cover a lot of territory not only geographically, but historically and politically. While not without polemic or sometimes lack of nuance, it offers important perspectives that challenge preconceived ideas.
devorah major
Ghost Fishing: An Eco-Justice Poetry Anthology edited by Melissa Tuckey — one of the best poetry anthologies I have read in years in terms of craft, diversity, depth of subjects, excellent introduction. 
Yoni Mayeri
Tech Stress: How Technology is Hijacking our Lives, Strategies for Coping, and Pragmatic Ergonomics by Eric Peper, PhD: I enjoyed seeing Dr. Erik Peper (an SFSU Prof) speak on the subject at OLLI and read his book, which is so relevant to my subject and our times.
Dan McGovern
The Man with the Golden Arm by Nelson Algren, penned when authors still aspired to write "The Great American Novel," but here a dystopian America of addicts, grifters and other dreamers destined to disillusionment and despair.
Sara Orem
Dusk, Night, Dawn: On Revival and Courage by Anne Lamott. "Lamott shows us the intimate and individual ways we can adopt to move through life's dark places and toward the light of hope that still burns for all of us."  (from the front flap of the book)
The Piano Tuner by Daniel Mason. Mason writes of a Londoner, an expert piano tuner of rare Erard grand pianos, who is called to colonial Burma by a British captain, to tune his Erard piano.  The novel is in places dreamlike, in others specific about colonial power and intrigue, and entirely absorbing.
Run Me to Earth by Paul Yoon.  A story of three Laotian children who survive during the Vietnamese war by aligning themselves with a remote hospital where they search for and bring in victims of the war to be stitched up, amputated, and generally cared for.  The children plan to escape by helicopter to France.  Only one makes it.  The novel follows their lives after the rescue.  Beautifully written.
Bill Sokol
Sisters in Law: How Sandra Day O'Connor and Ruth Bader Ginsburg Went to the Supreme Court and Changed the World by Linda Hirshman. A fascinating deep dive into the lives and work of two extraordinary women who truly changed the world we all live in — very readable and very revealing.
Great recent fiction: Union organizer Elizabeth Gurley Flynn and the Seattle General Strike a century ago, in The Cold Millions by Jess Walter; Chinese women in the Wild West in C Pam Zhang's How Much of These Hills is Gold; a graphic novel adaptation of Octavia Butler's Kindred is also a great pictoral read.
Matthew Specter
I can recommend Rachel Cusk's mesmerizing Outline Trilogy — Outline, Transit, and Kudos for their psychological acuity, wit, and austere, yet elegant prose. Next I plan to read her essay collection, Coventry.
Stephanie Wells 
Lonely City by Olivia Laing —a sensitive memoir and personal meditation on the human experience of loneliness, mixed with investigative and biographical art criticism of four major painters who explored the topic in their work and lives (Hopper, Darger, Warhol, and Wojnarowicz, among others she includes in less detail). 
They Came Like Swallows by William Maxwell —a novel recommended by a friend who knows I love Virginia Woolf, with similar rhythms, set during the 1918 pandemic
Women Rowing North: Navigating Life's Currents and Flourishing as we Age by Mary Pipher —an investigative study with interviews of multiple women in an attempt to discover what enables women to continue (or begin) to create meaning and joy in their lives as they age.
Darren Zook
Pekka Hämäläinen, Lakota America: A New History of Indigenous Power (Yale University Press): I'm recommending this book because Pekka Hämäläinen is at the forefront of a new generation of historians who are rewriting indigenous history in America in ways that still offer a critical perspective but also strive to situate indigenous history as an integral part of both American and indigenous identity.