Photo by Jim Watkins
Evan Johnson is an actor/creator, teaching artist, and community builder with over 15 years of experience. He's the director of the Cosmic Elders Theatre Ensemble, and he hosts regular gatherings, events, and workshops. Evan's background is in physical theatre, improv, solo performance, and playwriting. Evan is teaching "Collective Imagining: Ensemble Devised Theater" in the fall.
---
What is Ensemble Devised Theater, exactly? 
I've been exploring devised theater-making for about 15 years now. Devising in an ensemble setting offers something a little different than traditional theater-making or a playwriting process. Somebody might bring to the table a love of poetry or an instrument they play or a song they've committed to memory. For me, it's about listening to others, finding common threads, sharing what resonates, and discovering new ways to leverage everyone's contributions and enthusiasms. There are many ways to get there, to make and create a devised play, and it's exciting to watch the process unfold!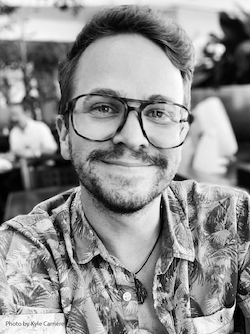 I've taught drama to kids as young as four years old and I've had students who are in their 80s. I've observed human habits that are transcendent of age. Part of this practice is to navigate individuality in a collective setting and to help guide the group towards a common goal. For me, creating this way is aspirational. We set forth on a path together, and we carry on with flexibility and resilience. To me, there's nothing more exciting or more inspiring.
Among your myriad endeavors is the Time Capsule Project for LGBTQ+ elders. I can only imagine how powerful those stories are from people who've lived through and witnessed so much, from the AIDS epidemic to marriage equality. 
Absolutely. It's been an honor to hold space for these conversations and reflections. I've worked in the Castro District for over a decade. I started at Spike's Coffees & Teas, and I was told the original owner had been lost to AIDS. I was in my early twenties and working behind the counter. At Spike's I was exposed to multiple generations of queer people living their lives so authentically. That was a really impactful time. I've always loved history and learning about others. My LGBT Time Capsule Project is rooted in storytelling, dialogue, and community building. It's been so gratifying to have these intergenerational connections and conversations in my life. 
Has the theater always been a part of your life?
I've always been entranced and captivated by live performance. The first play I ever saw was Peter Pan with Cathy Rigby at the Golden Gate in San Francisco. I was about seven. At the end, a bunch of us kids waited by the stage door and she came out with fairy dust and handed me a small pinch. I mean, how iconic is that?
As a child, I was putting on plays relentlessly around the house. I grew up in a very small town — Fortuna, California — and then we moved to another small town in the foothills of the Sierra Nevada. There I was in the woods, sticking out like a sore thumb. Luckily my dad helped me install a dimmer switch so I could set lighting levels in my bedroom, and helped me clear out my closet, which I called the Sunlight Theater. It had a little curtain rod and a spotlight. My sister and I performed — my brother, too, if he was being amicable — for neighbors and cousins. And if I couldn't get anyone to perform with me, I was writing. The local community theater presented my first script when I was twelve. I thought I'd hit the big time. 
Theater has been a lifelong pursuit for me. It's the one thing I've never tired of. It provides me with so many insights, so much joy, and so many wonderful, deep connections. 
We're in such a strange time right now, slowly re-emerging after more than a year of isolation. How do you think that reality will impact your OLLI course?
We've all had this major thing happen in our lives that rocked our world and completely destabilized us. As we begin to emerge and dust ourselves off, I'm curious how we might create connection. For the past year, in collaboration with Toronto's Center for Aging and Brain Health Innovation, I've been developing a number of interactive prompts and exercises, based on my theatre making background, designed to create a sense of community online. I'm thrilled to be offering this all-new course and I'm hoping members of the OLLI community will join me in this endeavour. My aim is to cultivate a supportive community that feels rich with possibility. That's really my biggest goal.
Do OLLI members need to have any acting or improv experience? 
Curiosity is the only prerequisite. If you're curious, that gets you in the door. I am delighted to meet people where they're at. If you come with an adventurous spirit — and certainly lifelong learners have adventurous spirits — you're set. All are welcome! 
There's a quote about learning from T.H. White's The Once and Future King, that I just love. I've thought about this a lot during the pandemic. [Evan reads the passage]:
"The best thing for being sad," replied Merlin, beginning to puff and blow, "is to learn something. That's the only thing that never fails. You may grow old and trembling in your anatomies, you may lie awake at night listening to the disorder of your veins, you may miss your only love, you may see the world about you devastated by evil lunatics, or know your honour trampled in the sewers of baser minds. There is only one thing for it then — to learn. Learn why the world wags and what wags it. That is the only thing which the mind can never exhaust, never alienate, never be tortured by, never fear or distrust, and never dream of regretting. Learning is the only thing for you. Look what a lot of things there are to learn."