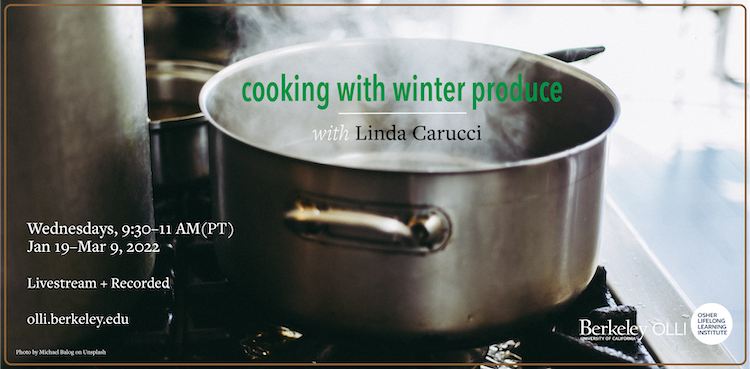 Linda Carucci is a former California Culinary Academy dean and granddaughter of an Italian cheesemaker. She is the author of Cooking School Secrets for Real World Cooks, a finalist for James Beard and Julia Child First Book awards. She is teaching Cooking with Winter Produce with us this winter.
-----
You have quite the biography. How did you go from being an Associate Dean of Students at Occidental College to someone Thomas Keller called "a consummate teacher, cook, and coach all rolled into one."?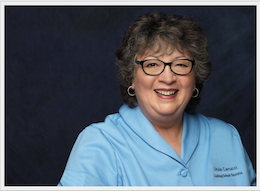 I felt like there was something missing in my wonderful job at Oxy. I figured that if I'm going to work this hard, I want to do something that feeds my soul a little more. As I was musing away, a friend said, "You should go to cooking school" to which I responded, "What are you talking about?" He said, "Well, you work all hours of the day and night and then you come home and cook. On the weekends, we'll play tennis or go to the beach and you're cooking and having people over." Which was all true. So I started to really pay attention to what it is I feel most passionate about, and it was cooking. I also realized that not everybody grew up in the same kind of environment that I did.
And what was that?
I grew up with grandparents who had all emigrated from Southern Italy. Our family was very focused on food. At breakfast, we planned lunch and dinner. At lunch, we sort of tweaked dinner, and then talked about what would be leftover and what to cook with that. It just was part of our culture and I loved it. My grandfather was a dairyman. He made mozzarella and ricotta commercially. It was so good.
As a girl, I'd go into the garden with my grandmother who would gather up the bottom corners of her apron to make a sort of basket. We'd pick cucumbers, peppers, tomatoes, squash blossoms — whatever was ripe. Then we'd go back to the house and she'd talk about what we were going to do with the bounty. That was my first culinary apprenticeship and I just figured everybody had that kind of exposure to food.
So with that as your background, it was good-bye Oxy, hello Culinary Academy?
Pretty much. I moved to San Francisco because a friend from grad school had a house here and she encouraged me to take the leap. And I knew, as an educator, that if I wanted to make a career change and do something in the restaurant or hospitality industry, I had to get new training. Hence, the Culinary Academy. I interviewed, and loved it. I felt so at home in the facility, even though there weren't many women at the time. There were just a few of us "returning" students and we all sort of glommed onto one another and became very close. One dear friend was Charlie Trotter, the legendary chef and restaurateur who died much, much too young.
My understanding is that the culinary world is, or, at least, was, a notoriously hard one for women.
Oh, yes. I was called "Mommy" by the executive chef and chased up the stairs by another. I was quickly thrown into this world of all this sexist garbage that I had been talking to college students about how to avoid. It was—and still is, I'm afraid—quite ingrained in the industry.
What led you to becoming a cooking instructor?
I've always been curious about and fascinated by food. After working in restaurants and working as a live-in private chef, I knew I didn't really want the kind of lifestyle that comes with those jobs, but I did want to do something in the field. That meant I had to find other people and professional organizations where I could continue to grow and continue my education, which I knew would be lifelong. One thing led to another, and I worked at COPIA (where I first met Thomas Keller), I launched the culinary school at The Art Institute of California—San Francisco, and so on. I came to learn that along with loving to cook, I'm fascinated by the science of it and I enjoy explaining that science to students, such as why we heat up a sauté pan before adding oil or why salt is so important in cooking.
If you could invite three people, dead or alive, to a dinner party, who would it be, and what would you serve?
U.S. Representative Jackie Speier because I respect her for announcing her retirement when she's at the top of her game and while she still might have the capacity to mentor the next generation of progressive leaders. I can only imagine what great stories she has to tell.
OLLI professor Harry Chotiner because I absolutely love his exuberant, candid, and mensch-y approach to teaching. I've learned so much from Harry—about both movies and pedagogy—and I can only imagine how much fun we'd all have breaking bread with him.
My late grandmother Filomena Maulucci Guglietta at whose side I unwittingly took my first culinary apprenticeship, decades before I had the slightest inkling that I'd have a career in food. She laid the foundation by lovingly--and with a twinkle in her eye--teaching me how to plan a meal, how to taste, and how to use all of my senses when cooking. I imagine her at the table laughing and telling stories with the other guests. It would be the ultimate honor for me to serve her one of my favorite recipes that she taught me to make—and to show her that recipe in print in my cookbook. She'd never say it, but I just know she'd be proud.
And this is what I'd serve:
~~ Menu ~~
Focaccia Barese
Round focaccia from Bari, Italy, exceptionally puffy inside with a crispy crust, baked with cherry tomatoes, oregano, and cured black olives on top
My Grandmother's Baked Stuffed Manicotti 
Homemade crèpes, Calabro hand-dippeed ricotta, fresh mozzarella—lighter than you can imagine.
R&Z Farm Tomato Sauce
My late father-in-law grew up on this 300-acre farm in Dixon, CA where the family still grows tomatoes. At harvest each year we pick crates of tomatoes which my husband lovingly processes and cans so we can enjoy passata (tomato purée) from the farm all year long.
Salad
Hearts of Escarole and Treviso with Extra-Virgin Olive Oil and Shaved Fuyu Persimmon in fall / Oro Blanco Suprèmes in winter/ Shaved Radishes in spring / Persian Cucumbers in summer
Dessert
Almond Panna Cotta with Amarena Cherries and Crumbled Amaretti
Refreshing, make-ahead, eggless custard garnished with imported cherries in syrup and crispy almond cookie crumbs
~~~