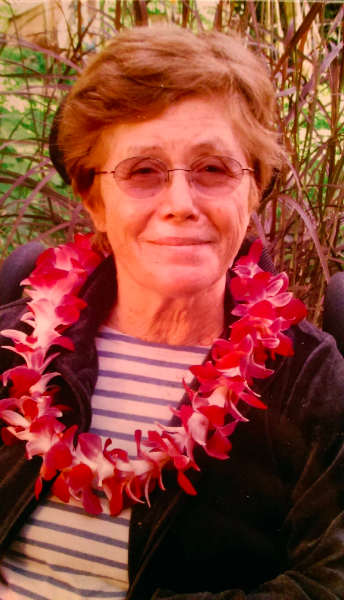 I

t is with great sadness that we learned of the passing last week of longtime member Andree Graham. Andree was a wonderful part of our community, taking dozens of courses with us over the years. Those taught by Berkeley professor Amelia Barili were especially close to her heart. Amelia has written a beautiful tribute to her student and friend Andree which she has kindly agreed to let us share with you.
---
I have known Andree for many years. She took several of my OLLI courses and didn't allow her Multiple Sclerosis stop her from volunteering, before the pandemic, with Refugee Transitions at Oakland International High School, at English in Action, and at the Writing Program of the Berkeley Unified School District, all in her wheelchair. This semester she was mentoring 1:1 a first generation LatinX student, who is studying pre-med, has two jobs, and is taking a Chicanx/Latinx identity course with Casa Mora, one of our community partners.
I also know Andree, more personally, not only from crossing paths in our neighborhood, but specially because Andree came to many of the retreats and workshops I have been teaching online since the pandemic started. She never skipped a Saturday, and from her chair did the slow arm movements that I was teaching each day. We talked often after the class and in between classes. She was even there, at the workshop, last Saturday, and she came to all the "Meditation, Volunteering and Positive Neuroplasticity" classes, except this last one. We missed her deeply and cherish her memory.
I always admired her intelligence and her perseverance in overcoming the limitations that her Multiple Sclerosis progressively imposed on her. I connected Andree with ex-students of mine from Cal, who assisted her in participating in a yoga class, and getting in the swimming pool at the YMCA. They were delighted to meet Andree and she got interested in their life too, and even helped a young athlete to pick what her next path would be after graduating from Cal.
Trying to find ways for Andree to overcome the depression that she felt from time to time, I connected Andree with an old friend of mine, Sue Schweik, who suggested several venues and connected Andree with several people to be able to participate in more activities and groups. Andree followed the connections and in these last months went to concerts, white water rafting and even on a cruise to Alaska with her son and daughter-in-law. She had wanted for many years to have these experiences and, perhaps noticing how quickly her sickness was advancing, she organized what was necessary to have them while she still had some movement.
These last weeks were getting progressively more difficult. Andree could barely lift her head and had pain in her feet and legs. She kept showing up. She had a strong sense of community and rejoiced in us being together. I can't put into words enough how generous and courageous her spirit was. She went from being angry at her limitations and speaking up about them to progressively accepting her lot, and doing the best she could to live in peace and rejoice in every little opportunity in her life. She knew death is a transition and was not afraid. She passed away in her sleep.
May we bathe Andree's spirit with light and love, and lift it in the wings of grace, for her to reach the open prairies of spirit where she will be free to run and dance again.
---

Amelia Barili is an educator, author and innovater. She teaches at Latin American literature and culture at UC Berkeley as well as leads numerous yoga and Qigong workshops.