How to Write a Legacy Letter
Repeats every week every Thursday until Thu Mar 09 2023.
Thursday, January 19, 2023 -

9:30am

to

11:00am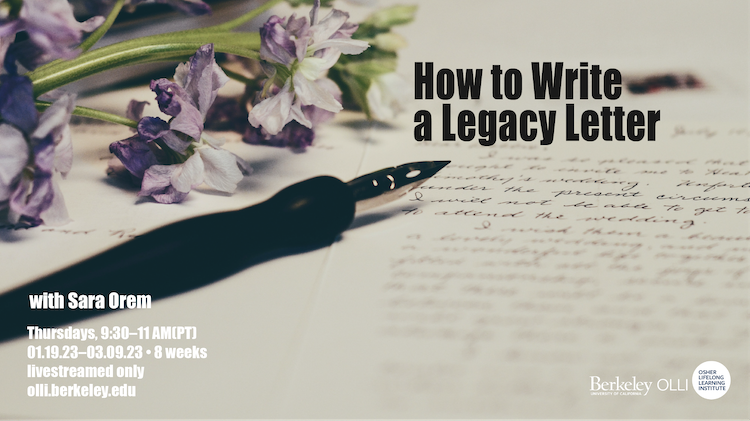 A legacy letter or document is a work you create that tells the people you love the most what you want them to know about your life: your values, your stories, and your advice/hopes for them. It can be as simple as a one-page letter or as complicated as a
collection of short written pieces, photos, and official documents. "It is a non-legal document that passes on important information about you and your ancestors to your loved ones and descendants," writes Beth LaMie in Legacy Letters from your Heart.
Also called an ethical will, the legacy letter began as a Jewish practice over 3000 years ago. The initial practice was an oral tradition passing along information about lineage and family history. More recently Stanford geriatrician and palliative care doctor VJ Periyakoil, MD started a written tradition with her patients and their family members to express forgiveness, thanks, and love. You will write the foundation of a Legacy Letter in this class, with help from Stanford Legacy Letter worksheets, Elderwriters' suggestions, and writing prompts. No writing experience or expertise is required, only enthusiasm for your own legacy! We will write in the class. You will share your writing only if you wish to. The instructor will provide weekly feedback on work you create (in the class) if you want it.
---
In addition to having published three non-fiction books, Sara Orem has been a long-standing member of a Monday Memoir Writing Group that grew out of one of Malcolm Margolin's OLLI classes, and a Wednesday Amherst Writers Group. She has published articles in the Minneapolis StarTribune, The St. Paul Pioneer Press, St. Paul Magazine, the San Francisco Chronicle and The Greater Good Magazine (the publication of the Greater Good Science Center at UCBerkeley). She has created her own Legacy Letter for her three daughters and her beloved grandson.
---
This is a Livestream-Only Course
Classes will stream live on the scheduled day and time, and will not be recorded.
Course materials will remain available to enjoy in the Member Dashboard through March 31.
Fee assistance is available if cost is a barrier. Learn more.
---
Schedule Highlights
Course starts on Thursday, January 19, and ends on Thursday, March 9.
Classes run for eight weeks, 1.5 hours per session.
---
Member Praise for "Legacy Letter" Course
"Sara is a marvelous instructor! So happy I took this class!"
"Life is too short not to address the need for reflection on our relationships, both with the past, and with whom we leave behind. Sara gave us the tools to capture the important things of our lives and express them to the important people in our lives. A treasured gift indeed. Thank you, Sara!"
"My most important takeaway is the peace I shall confer on myself by writing this letter, combined with telling stories and capturing moments and historical recollections and knowing that my family will read these carefully and pass it on to their next generations. Stated differently, I found this course to bring many emotions to the surface in my 83-year old body. Tears flowed liberally. Life is so short."