How America Became Great and How it Can Be Again
Repeats every week every Wednesday until Wed Feb 22 2023.
Wednesday, January 18, 2023 -

1:00pm

to

3:00pm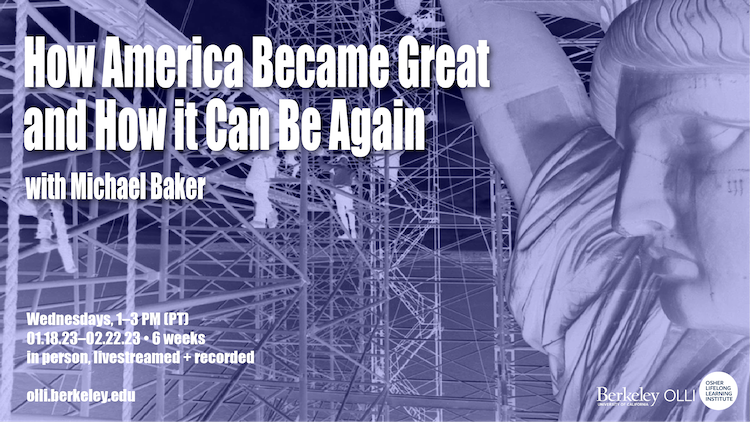 The United States led democratic nations to victory in two world wars and dominated the global economy during the 20th century. Today, American democracy is at war with itself: big lies trump facts, domestic violence is the a rise, and progress towards equality and justice has eroded. In this course, we will examine the elements that made America great and how we started to lose it. We'll also explore some of the reasons we are divided and struggling as a nation, and suggest some ways the country can heal itself and regain a prominent role in world leadership.
---
Dr. Michael Baker is a retired general surgeon and trauma surgeon and who served 30 years in the uniform of his country, retiring from the U.S. Navy with the rank of Rear Admiral. He was awarded three Legion of Merit awards which he wears along with the Marine Corps Combat Action Ribbon, and River Warfare Officer in Charge Pin. He has published over 80 peer reviewed articles on a wide range of subjects from combat wounds and civilian trauma to medical intelligence, pandemic surveillance, and building the hospital ship of the future. He is on the Board of World Affairs of Northern California, an OLLI faculty member, and teaches at hospitals, universities, and military bases around the world.
---
This is an In-Person, Livestreamed & Recorded Course
Classes will be held in person at University Hall, Room 150, 2199 Addison St.
Classes will also be streamed live simultaneously and recorded. Videos will post Friday of each week.
Course materials, including videos, will remain available to enjoy in the Member Dashboard through March 31.
All links and materials will be posted in the Member Dashboard. Learn more.
---
Schedule Highlights
Course starts on Wednesday, January 18 and ends on Wednesday, February 22.
Classes run for six weeks at two-hours per session.
---
Health & Safety
---
Faculty Profile