Dark Westerns of the 1950s
Repeats every week every Wednesday until Wed Mar 08 2023.
Wednesday, January 18, 2023 -

12:00pm

to

1:30pm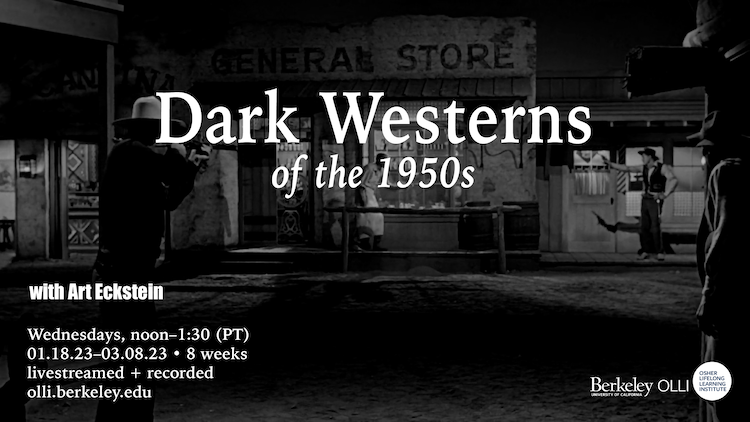 The Hollywood western is a major American contribution to film culture. While the westerns of the 1950s are often seen as European-American imperialist propaganda, Hollywood produced a series of darker, more psychological westerns during the early Cold War. We will examine eight of these later westerns and explore what they say about American culture of the period:
Red River (1948; dir. Howard Hawks; starring John Wayne, Montgomery Clift, Joanne Dru): A celebration of the "making of the West" by the first cattle drive from Texas to Kansas, but also about fierce personal conflict between father and adopted son, and between an authoritarian and a democratic leader.
Fort Apache (1948; dir. John Ford; starring Henry Fonda, John Wayne, Shirley Temple): Racism and military incompetence
High Noon (1952; dir. Fred Zinnemann; starring Gary Cooper,  Grace Kelly,  Katy Jurado): The lone lawman hero, but in an evil town. In the last scene the hero throws away his badge.
The Naked Spur (1953; dir. Anthony Mann; starring James Stewart, Robert Ryan, Janet Leigh): Ruthless greed, and the disruptive impact of the Civil War
The Searchers (1956; dir. John Ford; starring John Wayne, Jeffrey Hunter, Natalie Wood): The traditional western hero deconstructed as a disturbed violent racist. John Wayne's greatest role.
One-Eyed Jacks (1957-1961; dir. Marlon Brando; starring Marlon Brando, Karl Malden, and Pina Pelacer): vengeance as self-destruction, with Oedipal overtones
Gunman's Walk (1958; dir. Phil Karlson; starring Van Heflin and Tab Hunter): Juvenile delinquency and racism on the range
The Magnificent Seven (1960; dir. John Sturges; starring Yul Brynner, Steve McQueen, Eli Wallach): American gunfighters go into Mexico to save a village from outlaws. Hello, Vietnam…
---
Arthur M. Eckstein is a professor emeritus of history at the University of Maryland. His scholarship includes imperialism in the ancient and modern worlds. He is the author of many books, including The Searchers: Essays and Reflections on John Ford's Classic Western and Bad Moon Rising: How the Weather Underground Beat the FBI and Lost the Revolution.
---
This is a Livestreamed + Recorded Course
Classes will stream live on the scheduled day and time.
Classes will also be recorded. Videos will post the Friday of each week.
Course materials, including videos, will remain available to enjoy in the Member Dashboard through March 31.
Fee assistance is available if cost is a barrier. Learn more.
---
Schedule Highlights
Course starts on Wednesday, January 18 and ends on Wednesday, March 8.
Classes meet for eight weeks, 1.5 hours per session.
---
Faculty Interview