Boroughs & Barrios: New York City & Los Angeles
Repeats every week every Thursday until Thu Mar 09 2023.
Thursday, January 19, 2023 -

2:30pm

to

4:00pm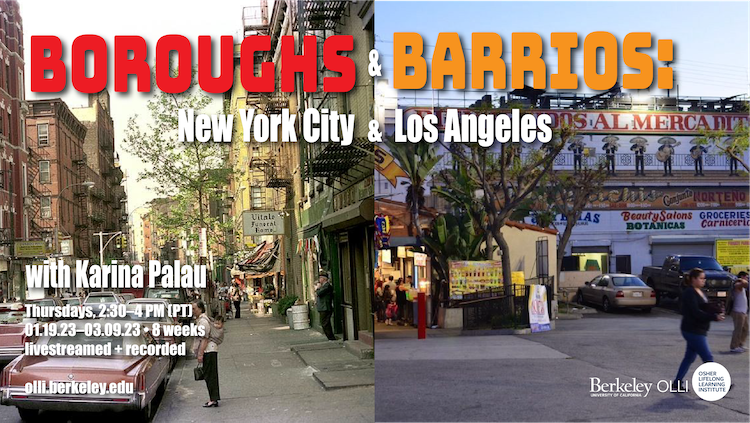 Physically, New York and Los Angeles spread across the map and encompass multiple neighborhoods and communities, seemingly facilitating our ability to access, explore, and find new connections within the concrete jungle of the metropolis.
Socially and economically, both cities have been figured as distinctly "American" dreamscapes—places of refuge and freedom, success, and self-invention—that hinge on the promise that the American city works like an open circuit, enabling unrestricted movement and mobility to and for everyone who visits or decides to make it home. But who comes to the American city, and why? How do visitors, residents, and (im)migrants negotiate and move through "The Big Apple" and "The City of Angels," reimagining urban life in the process? 
With these questions in mind, we will trace the crises of (im)mobility that mark the histories of New York City and Los Angeles, as well as explore the possibilities for place-making forged by marginalized communities in these two U.S. urban centers. We will examine the writing, popular music, advertisements, maps, photography and films that have emerged from the people who have called these places home, exploring the works of Emma Lazarus, Langston Hughes, Verónica Reyes, Ralph Ellison, Gordon Parks, Jacob Lawrence, Anna Deavere Smith, Anzia Yezierska, among others.
---
Karina Palau
is a lecturer in and coordinator of reading and composition for UC Berkeley's Department of Comparative Literature.
---
This is a Livestreamed + Recorded Course
Classes will stream live on the scheduled day and time.
Classes will also be recorded. Videos will post the Friday of each week.
Course materials, including videos, will remain available to enjoy in Member Dashboards until March 31.
Fee assistance is available if cost is a barrier. Learn more.
---
Schedule Highlights
Course starts on Thursday, January 19 and ends on Thursday, March 9.
Classes meet for eight weeks, 1.5 hours per session.
---
Faculty Interview
---
Please note that the video below is from when Karina taught the same course for UC Berkeley Summer Sessions.