Repeats every week every Monday until Mon Feb 13 2023.
Monday, January 23, 2023 -

2:30pm

to

4:30pm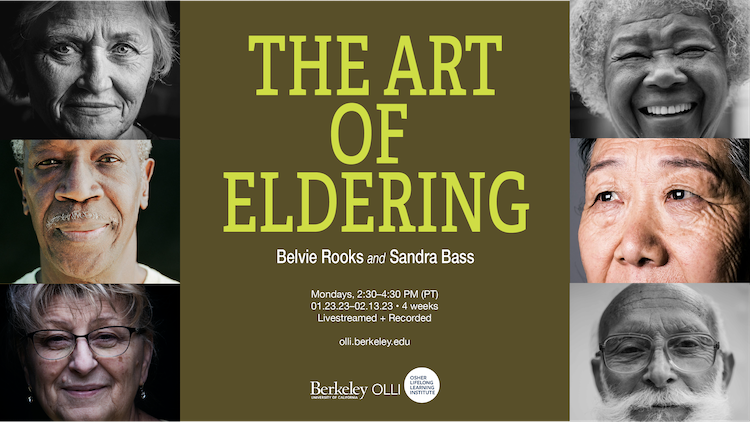 The pressures of the pandemic have been difficult and also revelatory. Many of us, and particularly youth, experienced a crisis of community and connection. Currently suicide is the second leading cause of death for young people 10-24 and we must ask ourselves, what does it say about a society when its young people are so disconnected and despairing that they don't want to be here anymore? We also are living during one of the most generationally diverse periods in human history. Yet our Western fixation on eternal youth has diminished the role and presence of elders who play a vital role in creating and holding space for co-generational community and collaboration.
In this course writer, human rights and social justice advocate, and long time intergenerational collaborator Belvie Rooks along with Sandra Bass, Interim Senior Associate Dean and Executive Director of the UC Berkeley Public Service Center we will explore the transformative possibilities of the practice of eldering:
What does it mean to be an elder?
What are the unique gifts co-generational collaboration holds and why are these co-generational relationships critical in our current moment?
What insights can we gain about eldering and co-generational collaboration from other cultures, young people, and thought leaders?
Through readings, conversation, and in class exercises this course will be both an exploration of the concept and practice of eldering and an invitation to embrace its possibilities. In addition to OLLI students, we'll be welcoming students and staff from the UC Berkeley Public Service Center to join us and share their wisdom and insights throughout the course.
Guest Speakers include:
Civil Rights icon, David Dennis Sr. and his son, award winning journalist David Dennis Jr. who will discuss the stories and histories showcased in their new book, The Movement Made Us: A Father, a Son, and the Legacy of a Freedom Ride;
Judith Le Blanc, an enrolled member of the Caddo Nation of Oklahoma and Executive Director of The Native Organizers Alliance, a national Native training and organizing network which provides Native organizers training based on traditional Indigenous knowledge values and practices. 
Speaker, poet, writer, and teacher Drew Dellinger who has inspired minds and hearts around the world, performing poetry and keynoting on justice, ecology, cosmology, and compassion. 
In addition to OLLI members, we'll be welcoming students and staff from UC Berkeley to join us and share their wisdom and insights throughout the course.
---
About the Instructors

Belvie Rooks is co-founder of the Growing a Global Heart project. She is a writer, educator and human rights and social justice advocate whose work weaves the worlds of spirituality, feminism, cosmology and ecology. A founding faculty member of the College of Social Justice at the State University of New York (SUNY) Old Westbury, she has also served as Visiting Faculty at Naropa University's Graduate Program in Environmental Studies, as core faculty at Holy Names University's Sophia Center Program in Culture and Spirituality, and as a lecturer at UC Santa Cruz.  

For over 25 years, Sandra Bass has facilitated social change both domestically and internationally through philanthropy, community engagement, scholarship, and education. She currently serves as Associate Dean of Students and Executive Director of the Public Service Center at UC Berkeley.
---
This is a Livestreamed + Recorded Course
Classes will stream live on the scheduled day and time.
Classes will also be recorded. Videos will post the Friday of each week.
Course materials, including videos, will remain available to enjoy in the Member Dashboard through March 31.
Fee assistance is available if cost is a barrier. Learn more.
---
Schedule Highlights
Course starts on Monday, January 23 and ends on Monday, February 13.
Classes meet for four weeks, 2 hours per session.
---
Faculty Interview