Pamela Rose is a San Francisco jazz and blues vocalist who has thrilled audiences locally and internationally with her swinging, soulful style. With seven recordings under her belt, Rose has toured nationally, celebrating remarkable women in blues and jazz. She is on the faculty of the California Jazz Conservatory.
---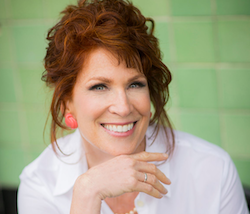 Have you always loved the blues?
Let's just say that when I was a little girl listening to music on the radio, I knew I didn't want to be Doris Day. I wanted to be Aretha Franklin. My first gig was as a singing waitress in L.A. I was a huge Bessie Smith fan, so I would take my little guitar — which I played badly — and would belt out these Bessie Smith songs to the diners. I laugh thinking about it. I've always loved the blues. It just really reverberates with me. I love jazz, too, and have done a lot of jazz tours, but I call myself a blues singer who also happens to love jazz. Blues is the root.
I have to confess that the first image that comes to mind when I think of the blues is a man and his guitar.
You're not alone. I think that's true for a lot of people. They immediately think of, say, Robert Johnson or Muddy Waters. The history of the women in blues is really the untold story. It was the women who popularized the music and helped create the record industry as we know it today. It was women blues singers, not the men, who were on the first gramophone records. It was the impact of hearing these amazing female vocalists, the fierceness and the depth of their singing, that knocked people over. It was through their records and their voices that blues got spread around the world so quickly.
Your course is going to track the blues over the course of a century. Tell us a little about those early blues women.
I've sung the blues my whole career, and have admired and been inspired by the many generations of women who've sung the blues. But it wasn't until later in my career that I came to really appreciate the foundational role these early women played in popularizing and defining the genre. I'd read interviews with greats like T-Bone Walker and Jelly Roll Morton, even W. C. Handy, and almost all of them said that the first time they heard the blues was from a woman.
I think there's a really deep weight to the fact that the music these men remember was carried by women. T-Bone Walker said that his mother used to sing what she would call her "trouble" songs to him. Randy Weston, an ethnomusicologist, said that in Africa, the work being done mostly by women — cooking or sweeping or tending children or going to market — had a song to it. So, there is this centuries-long tradition of having a refrain and singing it over and over again, and having that come from women.
But it's really important to understand the context of these early blues women like Ma Rainey and Bessie Smith and Sippie Wallace. These women had very little power or freedom. They were Black women in the South. They didn't have a lot and they were denied a lot and they had a treacherous path to walk.
The fact that they created these songs that became so popular — fierce, empowering, deeply-felt songs about women who stared life in the eye and said, you know, if you don't get treated right, move on — is extraordinary. Many of the early, early blues women became the kind of women they sang about — women who did not suffer in silence, who expressed freely, who may have misbehaved, who broke hearts and had hearts broken. The message is that even in the deepest sorrow, there is resilience.
Their songs were not only impactful in 20s and 30s when they first came out, but their messages informed the songs of protest in the early days of the feminist movement and the civil rights movement in the 60s and the 70s.
Who do you think is carrying on the mantle today?
I love Ruthie Foster. I think she's just sort of the whole package in terms of songwriting, her emotive style. She mixes it all up whether it's country, blues, gospel. To her, it's all one kind of music and that's the way she presents it. I'm not much of a crier, but I'm always in tears when I hear her perform. I love Bonnie Raitt, too. I'm a huge Bonnie Raitt fan.