February 2022
Pam Gleason is a local history buff and tour guide whose Guidebook to Berkeley will be on bookshelves soon. She's worked at UC Berkeley's Graduate School of Journalism since 2007 and has degrees in political economy and history. She misses the "How Berkeley Can You Be?" parade and is intrigued when individual agency changes the course of history. 
---
You're working on a book about Berkeley. Tell us a little about it.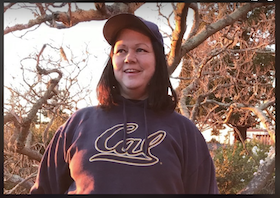 Berkeley is endlessly fascinating and complicated. I arrived in Berkeley in 1985 as a transfer student. My social life was split between Barrington Hall, which was famous for anarchy and nudity, and my sorority, Kappa Kappa Gamma. Kappa Kappa Gamma's nickname was Visa Visa Mastercard, the rich girl's sorority. I remember Molotov cocktails being thrown at one of the anti-apartheid rallies I attended. From the start, I've never had a dull moment in Berkeley.
My book is based on the walking tours of Berkeley that I started in 2017. My tours are a way for me to practice storytelling. I've spent the last five years researching untold stories in Berkeley's history. It's super fun to try out new material on my tour guests. I think of myself as a public historian because I use narrative storytelling to teach history. Almost every day I find out something about Berkeley that surprises me. I'm convinced it's the most innovative place in the world.
My book tells stories about Berkeley, from 5,000 years ago, when the first indigenous people arrived in the Bay Area, to what's happening today. I've interviewed dozens of people for it — Chancellor Carol Christ, Berkeley mayor Jesse Arreguín, newly minted Nobel laureate Jennifer Doudna, and so many others who are a part of Berkeley's history.
Berkeley's first famous restaurateur was Lois Davis, aka Lois the Pie Queen. This was 15 years before Alice Waters opened Chez Panisse. I found a 1940 Green Book that lists Berkeley's Black businesses on Sacramento Street. People came from all over the Bay Area to eat Lois's famous southern-fried pork chops (Reggie Jackson's favorite) and then walk a few doors down to browse the latest gospel music at Reid's Records.
Traveling from the first indigenous people to Lois the Pie Queen is a pretty big journey.
True! I really think history is more relatable if you can connect it to what's happening in people's lives today. The history of Berkeley mirrors the history of California. Berkeley's location across from the Golden Gate was a sacred indigenous paradise for thousands of years. A few generations of colonization caused Berkeley's ecosystem to collapse. UC Berkeley was founded to spread American ideals, imperialism, and industrialization. These ideals don't seem so great in light of the climate crisis and systemic racism. Most people know about the Free Speech Movement, People's Park, and the hippies on Telegraph Avenue, but there's so much more. It's fun to make the connections between what happened in history and what's happening now.
Your enthusiasm for Berkeley is wonderful. Are you from the area?
I was born in Silicon Valley. My dad is one of the pioneers of artificial intelligence and robot engineering. I was probably one of the first kids, if not the first kid, to work on a modem. This was in the early 70s. The modem in our house was giant. It had a full-sized typewriter inside it and you connected to ARPANET by plugging it into the landline. My dad worked for Stanford Research Institute, where he worked on Shakey the Robot. At night he moonlighted as one of Atari's first employees. He's a great inventor — we always had robot prototypes and circuit boards on the kitchen table. I guess machines were a big part of my childhood.
Machines aren't storytellers, though.
Exactly. While I had opportunities to go into tech — I was even recruited by Apple as a high schooler — it was a turnoff for me. I love traveling and immersing myself in other cultures. I want to interact in person. I mean, I love technology, I use it all the time. But for me, my heart has always been about building life experiences and relationships. The narratives. Machines don't do narratives.
What do you think would be a quintessential experience for someone who's never been to Berkeley? Where would you take them?
I would take them over to People's Park, and I would introduce them to Nick who runs the meat kitchen there. Food Not Bombs brings vegan food to People's Park, but many of the regulars want meat. Nick set up his makeshift kitchen in the center of the park. He's a delight to talk to, he's just a real natural storyteller. I would have him tell his stories so people could understand what it's like to live there. People's Park is going to be bulldozed any day now. Hearing Nick's stories is a way to be a part of Berkeley's history.