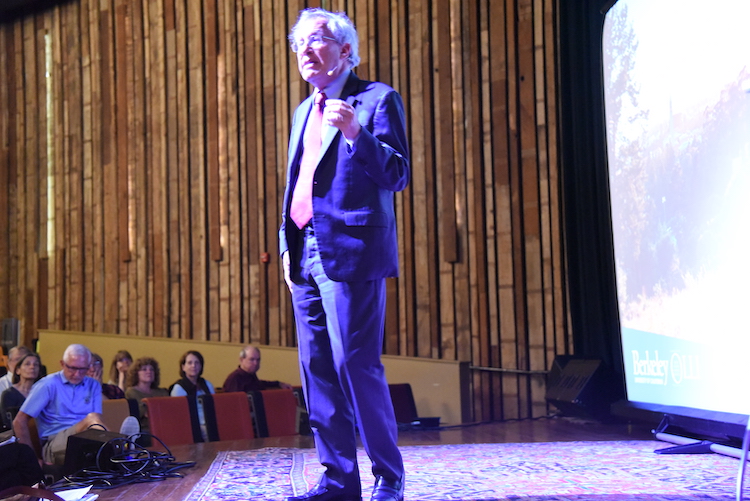 Berkeley Law Dean Erwin Chemerinsky at an OLLI lunchtime speaker event
OLLI Lectures showcase leading figures in their fields discussing some of the most pressing and provocative issues of our time. Recently, speakers have explored constitutional rights under the current court, breakthroughs in medical research, the science behind how to improve sleep, the global politics of waste, the state of American cinema, and more. OLLI Lectures are free and open to the public. 
---
UPCOMING LECTURES
Paint the Void: Street Art Now 
Tuesday, Aug. 18, 3:30-4:30 PM
Annice Jacoby chronicled acclaimed Mission art and artists in her book, Street Art San Francisco: Mission Muralismo (Abrams) and at the year-long deYoung series, Cultural Encounters. Her approach mixes art history, politics and popular culture. Check the events calendar for details.
Tech Stress: How to Stop Technology from Hijacking Our Lives 
Tuesday, Aug. 25, 3:30-4:30 PM
Erik Peper, Ph.D., an expert on biofeedback, holistic health and stress management, will offer real, practical tools on how to reduce physical strain, alleviate poor posture, combat brain drain and enhance productivity. Check the events calendar for details.
Moving Climate Solutions Forward Faster
Friday, Oct. 2, 10:30-11:30 PM
Ken Alex, Director, Project Climate, Center for Law, Energy and the Environment (CLEE), discusses promising climate solutions and some of the challenges and strategies for moving them forward more quickly. Check the events calendar for details.
---
ARCHIVED LECTURES
Watch on YouTube
Several recent lectures were conducted on Zoom, and are viewable on our YouTube channel.
Listen to Podcasts
We are delighted that a number of OLLI Lectures have been showcased on Berkeley Talks, a Berkeley News podcast that features speaker events at UC Berkeley.