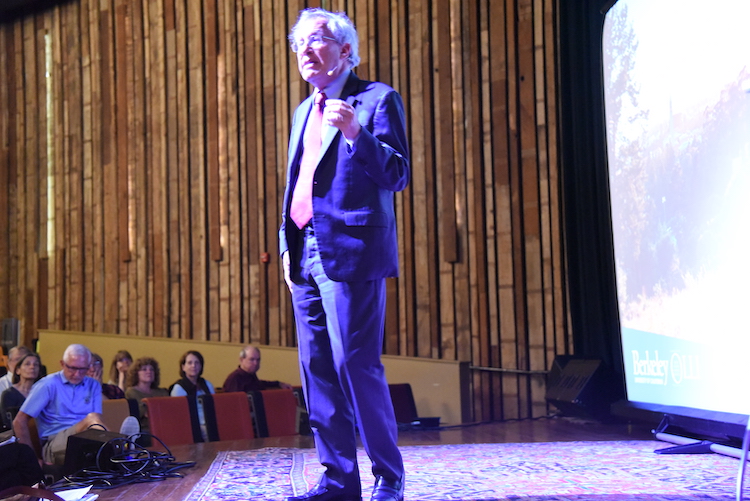 Berkeley Law Dean Erwin Chemerinsky at an OLLI lunchtime speaker event
OLLI Lectures showcases leading figures in their fields discussing some of the most pressing and provocative issues of our time. Recently, speakers have explored constitutional rights under the current court, breakthroughs in medical research, the global politics of waste, the state of American cinema, and more. OLLI Lectures are free and open to the public. Check for the events calendar for details and links to join.
---
UPCOMING LECTURES
George Breslauer on
The Myths and Realities of Putin's Russia
Friday, Feb. 26, 10:30-11:30 AM (PT)
George Breslauer, Provost and Professor Emerius, Comparative Politics at UC Berkeley, explores the myths and realities of Putin's Russia. Dr. Breslauer has taught and written extensively about Soviet and Post-Soviet politics and foreign policy, and will be teaching at OLLI in our spring term.
Mary Hughes on
The Political Leadership and Influence of Bay Area Women
Friday, March 5, 10:30-11:30 AM (PT)
Mary Hughes, a political strategist and co-founder of Close the Gap California, discusses the early, substantial and continuing political clout of elected women in the Bay Area. Ms. Hughes has advised candidates for President, Congress, state and legislative office contributing to a number of groundbreaking "firsts" — first woman in US history to lead her Party in the Congress; first woman Superintendent of Schools in California; and first open lesbian judge elected in the nation.
---
ARCHIVED LECTURES
Watch on YouTube
Recent lectures were conducted on Zoom, and are viewable on our YouTube channel.
Listen to Podcasts
We are delighted that a number of OLLI Lectures have been showcased on Berkeley Talks, a Berkeley News podcast that features speaker events at UC Berkeley.