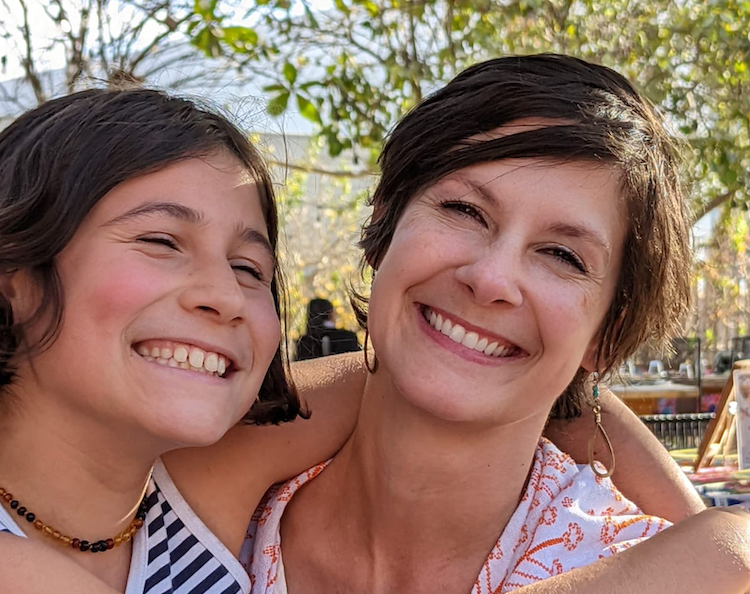 January 2023
Karina Palau is a lecturer in and coordinator of reading and composition for UC Berkeley's Department of Comparative Literature.
---
What was your inspiration for developing your "Boroughs & Barrios" course? Is it based on your history and experience in one or both places?
Absolutely! To be honest, I always seem to create courses that hinge on a question or line of inquiry that I simply can't shake. Boroughs & Barrios was inspired by my own sudden move from Los Angeles to Manhattan in the early 2000s; I finished my undergraduate degree at UCLA one day, and the next I was packing up my apartment and preparing to move to the mythologized metropolis of New York City. 
I don't think I was aware at the time, but I carried a head full of images and myths and ideas about NYC with me on that journey. Of course, NYC didn't live up to most of my expectations! But the process of grappling with my cross-country migration from one city to another opened up so many questions for me . . . questions about cities as physical and ideological spaces, about the pull that urban centers have for migrants and immigrants and people looking to self-actualize . . . about the ways that U.S. cities get constructed and 'sold' as American dreamscapes that often end up turning dystopian. 
When I reflect back on my move to NYC, my new Manhattan neighborhood was full of transplants or children of transplants—I still smile when I think about how lively it was, and loud, too—but almost all of those people were living at risk of being displaced or replaced. Most of them were facing economic precarity already—and in some cases, they had been for generations—and when I arrived, their struggles for housing and jobs were only intensifying. This will sound painfully familiar to most of us in the Bay Area, but the nearby university was pushing an aggressive agenda to build student housing, and local residents were portrayed like obstacles—if their presence was even recognized at all . . . Buildings were being torn down and new ones built just as fast. The sense of upheaval was visible and palpable—unlike anything I'd experienced before. The experience never left me, and years later, I carried my questions with me to UC Berkeley and created the first iteration of the Boroughs & Barrios course.  
In what ways are NY boroughs and LA barrios similar and in what ways are they distinct? Are differences based on location (east coast versus west coast) or on the migrant communities that call those places home?
I've been teaching this course for years now, and I still ask myself this all the time! I think the first major difference that comes to mind is that Los Angeles is a city built for cars—travel writer Cees Nooteboom calls it an "Autopia"—whereas NYC is a city built for pedestrians and public transportation users. This fundamental difference in how human beings move through the city changes everything, in my mind—it means the two cities are planned, but also experienced completely differently. And, in turn, it means that you find distinct visions of public space and place in the two locations . . . I'm fascinated by these kinds of tensions—the way that a city is a place marked by power and planning and institutional structures, yet it's also always a place that is physically and symbolically being (re)made and (re)negotiated by the people who live there and move through the city. 
And this is where I'd point to some of the overlaps that I see between Los Angeles and New York City—both are incredibly dynamic places, always in-process. This is probably an idea that we could entertain in relationship to any city, but the more I learn about the two cities that we study in Boroughs & Barrios, the more I also see urban space as always contested, always layered. You can study one block or one lot in just about any neighborhood of a city, and you'll see how forces like property laws and urban planning and city government intersect with family histories and the personal stories of the people who lived on or nearby that block or lot. Writers like Michel de Certeau and Teju Cole theorize NYC as a palimpsest, and I've come to cling to that image for Los Angeles, too. Even the freeway junctures have histories—and histories that shouldn't be forgotten! Entire communities—mostly people of color—were displaced to make way for the tangles of freeways that are synonymous with Los Angeles, which is a topic that we explore in Boroughs & Barrios. I think this is why it feels imperative to look and scratch and read beyond the surface of both NYC and LA for me: those erased or barely visible histories still matter, as do the ways that people and communities continue to survive and create a sense of place in the face of the threat of erasure.
Can you share a little about the creative works you'll be showcasing? Why these particular artists, writers and creators?
A student once joked with me that my courses read like "Karina's Top 100" lists, so this is tough to answer! Let's just say that I tend to get very involved when it comes to selecting works to showcase. Ultimately, I think I'm drawn to thought-provoking pieces that challenge me to see the world differently, pieces that use creativity to explore and imagine what the world might be or could be. I hinted at this already, but I organize courses around questions and themes that can be tackled from a multitude of angles . . . It's like the course itself becomes a way of thinking through our own potential answers by way of grappling with the experiments that other writers and artists and thinkers have produced when facing the same or similar questions. I also enjoy creating interplay between different representations and art forms. When we study the Harlem neighborhood in Boroughs & Barrios, for example, we'll look at maps and playbills from nightclub performances, paintings, photographs, and jazz song-lyrics in addition to reading poems and fiction.