---
What's the Member Dashboard?
Each OLLI member has a Member Dashboard, which includes essential membership and course information in three distinct buckets:
My Membership shows your contact information, account information, communications preferences, password and more;
My Schedule includes the dates and times of your class(es) and the Zoom livestream link(s) to access them;
My Course Materials is where you access class videos, reading materials and more. (You may need to scroll down to find it.)
---
How do I get to my Member Dashboard?
To access the Member Dashboard, you must first log into your OLLI account. Once logged in, you'll be taken directly to your Member Dashboard. If you're already logged into your account, but browsing elsewhere on the site, simply click "My Account" in the upper menu. 

---
I can't log into my account! I've forgotten my password.
No worries. Here's how to reset it:
Enter your username or email here and click "Log in."
You will see an error message. Click "Have you forgotten your password?"
Enter your username or email address and click "Email new password."
You will receive an email with further instructions. If you have not received the email within 5-10 minutes, please check your Spam folder.
---
Where do I find the link to my Zoom livestream class?
Click the "Livestream link" listed under My Schedule in your Member Dashboard, which takes you directly to Zoom. You must have a Zoom account — and be logged into your Zoom account — to access all OLLI classes and events, per new UC Berkeley guidelines designed to enhance security while on Zoom.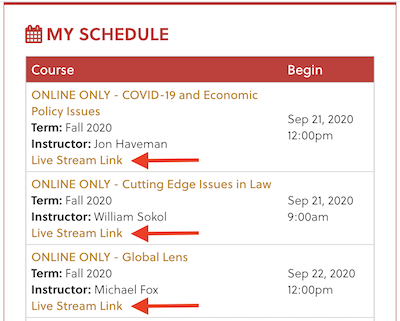 If you're registered for more than one course, make sure you are clicking on the correct Zoom livestream link. (You won't break anything if you don't. It's just that it won't get you into the right class because each course has its own unique Zoom link.)
---
I've clicked "Livestream Link" in My Schedule and I got this. Help!
If this pops up, it means you are not logged into your Zoom account. Click "Sign In to Join."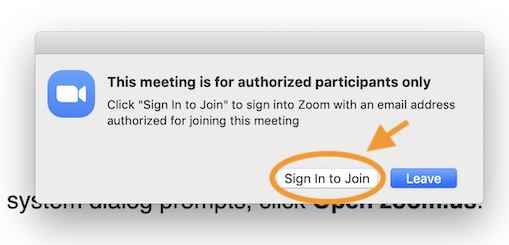 ---
Now it's asking me for my password. Is that my OLLI password or my Zoom password? 
It's your Zoom password. It's an extra level of security mandated by UC Berkeley to keep your Zoom classes free of hacking. Enter the email you used to sign up for Zoom and your Zoom password, then follow the prompts to enter the class.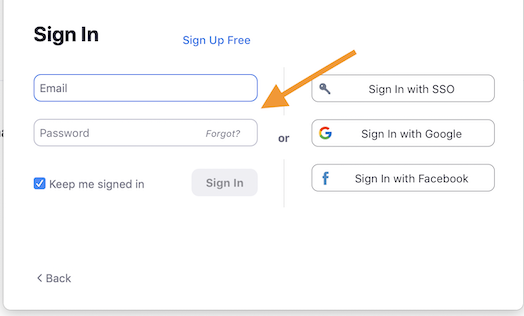 ---
It's asking me for a Captcha Code. What's that?
A Captcha Code is another layer of protection. Simply enter the letters you see behind the scratches (in this instance, pxhxk) in the blank space to the left, then click "sign in."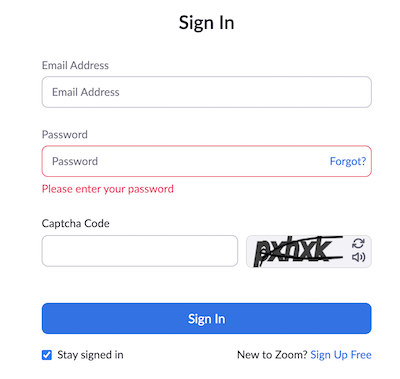 ---
Sometimes I have to enter my Zoom password to get into class, and other times I don't. Why?
Chances are, it's because the last time you left a class or event held on Zoom, you clicked "leave" but did not log out of Zoom itself. If you checked "Stay signed in" at some point when you logged into Zoom, Zoom has kept you logged in. 
---
I missed the livestream class. How, when and where do I watch a video of it?
Videos post weekly beginning the first Friday of term and remain in your account through the end of term. To access, simply log into your account, which will take you directly to your Member Dashboard. Scroll down to My Course Materials. Click on the blue View Course Materials.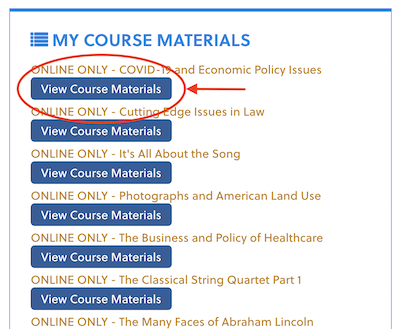 After you click on View Course Materials, you'll see the class video(s). For example: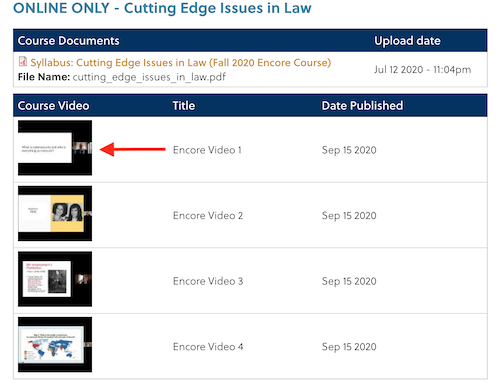 Click on the video image to watch. You DO NOT need Zoom to watch a pre-recorded video. It's hosted on our private YouTube channel. You may either watch in Course Materials or click the small "YouTube" logo on the bottom right corner of the video to watch it on YouTube, where you have the option to view it full screen.