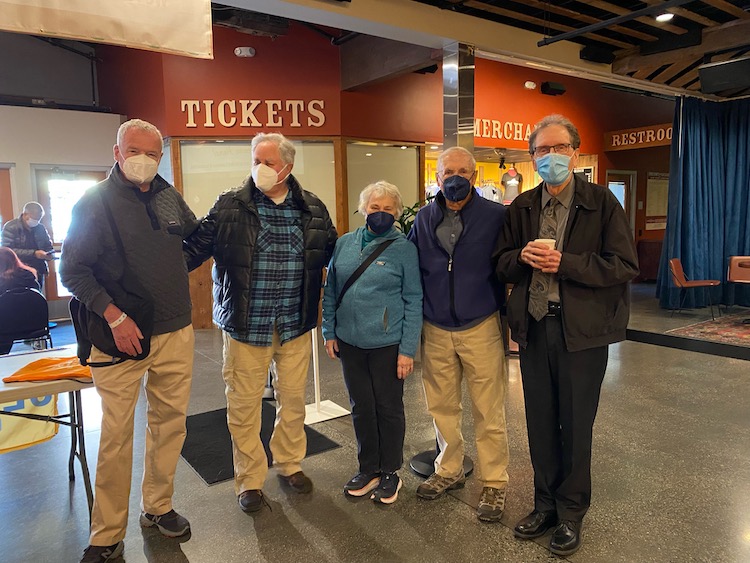 In-Person Courses
We are excited to host classes in person at Freight & Salvage (2020 Addison Street, Berkeley) and at the OLLI office (1995 University Ave, Suite 365, Berkeley, CA.) If you're planning to attend, be sure to review the following information so you know what to bring and what to expect. Please note that requirements may change based on city, campus and Freight & Salvage policy updates. See you in class!
---
Proof of vaccination required
Proof of vaccination (including a booster) and photo ID are required to enter 
Boosters must have been received at least one week prior to attending 
Vaccination cards, a photo of your card, or a digital vaccine record (e.g., myvaccinerecord.cdph.ca.gov) are acceptable forms of proof of vaccination 
---
Masks
Freight & Salvage: Masks must be worn at all times except if eating or drinking (per Freight policy)
OLLI Office: Masks are strongly recommended but not required (per UC Berkeley policy)
---
What to Expect When You Arrive
Freight & Salvage: Outside doors will open 45 minutes before and lobby doors 15 minutes before the start of class
OLLI Office: Doors will open 15 minutes before the start of class
You will receive a paper wristband the first time you attend; bring it the next time to avoid needing to show proof of vaccination. It's your fast track to class!
---
Food & Beverages 
Freight & Salvage: Food and beverages may be enjoyed in the lobby — purchased there, too — and at tables set up outside. Food and drinks are not allowed in the Showroom
OLLI Office: Food and beverages are allowed
Check out this list of places to eat close to the OLLI office and the Freight, courtesy of the Downtown Berkeley Association
---
Additional Safety Measures
At the Freight:
New air filtration system
An upgraded HVAC system brings in 100% outside air seven times per hour and ensures the cleanest air possible 
MERV-13 air filters have been installed, in adherence with CDC recommendations
HEPA filters are in place in areas with lower air flow (backstage, restrooms, classrooms)
Enhanced safety protocols
Hand sanitizer stations throughout the venue
Enclosed box office area
Fully vaccinated staff and volunteers
CDC-recommended cleaning practices before, during, and after classes, particularly cleaning of "high touch" surfaces
At the OLLI Office:
State-of-the-art HVAC system
MERV-13 air filters have been installed building-wide, running 100% outside air with an average air exchange rate of 6-8 per hour — the cleanest air possible
Air filter in large conference area
As an added enhancement, a portable air filter in the conference area can move air up to 4.8x an hour
Enhanced safety protocols
Fully vaccinated staff and faculty
CDC-recommended cleaning practices before, during, and after classes, particularly cleaning of "high touch" surfaces
---
Parking & Transportation
$2.5/hour parking is available at the Center Street Garage 
$2/hour parking is available at 1995 University Avenue 
Freight & Salvage and the OLLI office are near the Downtown Berkeley BART station