August 2015
In one of his recent blog entries, Eric Sinrod wrote: "Practically every aspect of life now takes place in cyberspace in addition to in the traditional world we know." However, according to Sinrod, there are not only rewards involved with cyberspace; there are also many risks. "Let's face it, the Internet can be a scary place from a risk standpoint," he said.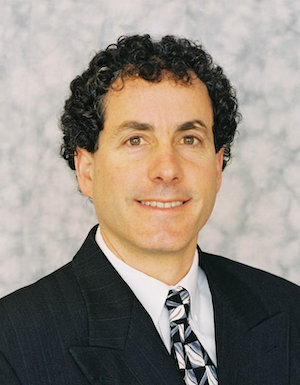 In addition to lecturing on privacy, security, freedom of speech and other issues, Sinrod enjoys engaging his students in interactive learning. "We'll look at real cases and I'll ask the students to figure out what they think the results should be. Sometimes they're surprised at the decisions that were handed down," he told me recently. "Our legal system isn't always perfect," he added.
An attorney in the San Francisco office of Duane Morris LLP, an international law firm with offices around the world, Sinrod specializes in Cyber Law and Business Litigation. In addition to his practice, he has lectured and taught at various universities and published numerous articles. He started the first Cyberlaw blog and has posted some 900 entries. He is also one of the hosts of TechLaw10, a weekly 10-minute audio podcast update on fast-breaking technology law issues.
A graduate of Oberlin College, Sinrod obtained a law degree from the Law School of the University of Michigan. He also studied at the University of London. He has been practicing law for over 30 years and moved to California in 1984. He said his family and background were progressive and open-minded, and that may be one of the reasons he loves Berkeley! Sinrod grew up outside of Washington, D.C. during the turbulent 60s and 70s.
He spent his high school summers in California, and decided long ago that he ultimately would move to the Bay Area. He fulfilled that goal in 1984, when he came to San Francisco to work for a federal judge. He has been here ever since.
In 1986, he married his wife, Carin, also a lawyer. Their daughter Michaela was born in 1991. Michaela is a volleyball star, and played at the collegiate level. She attended Tufts University in Boston, USC's Business School, and the Copenhagen Business School. She currently works at Yelp in San Francisco. Their second daughter, Amanda, was born in 1994. She is majoring in chemistry at the College of Chemistry at UC Berkeley, which is why Sinrod is often in Berkeley. During the summers, Amanda has been working at the USDA in Albany and will be studying in the Netherlands in 2016. The Sinrods live in Marin
Sinrod has lectured to OLLI students at Dominican University and is very much looking forward to teaching at OLLI Berkeley. He enjoys lecturing to OLLI students because they have "life experiences behind them and are mature, intelligent, and sophisticated." He said he tries to make his classes "organic, educational, stimulating, lively, interesting and fun."