It was but four years ago during the 2016 election that our then esteemed OLLI @Berkeley professor of Philosophy, the late Richard Lichtman, gave a class on Marxist theory. During that class he predicted an existential threat to our society should Donald Trump win that upcoming November election. Lichtman's two greatest fears were that global warming would be ignored, leading to an eventual enormous human toll, and that Trump represented the kind of authoritarianism described in Hannah Arendt's book The Origins of Totalitarianism, and that he would likely become a threat to our democracy.
What Professor Lichtman did not predict was the concurrent impact of a pandemic and the abrupt awakening to the institutionalized racism that had always existed in America.
I was not so aware then of the severity of the racism and classism that continued to reside in America, and I was also not so aware of the political and historical forces that could lead our society into its currently divided and hostile political culture that could threaten our democracy.
I read two exceptional books this past month that have enlightened me on these issues. The first is Caste by Isabel Wilkerson. (She won a Pulitzer Prize for her previous book The Warmth of Other Suns about the migration of African Americans to the North and West in the early 1900's.) Her current book is about the embedded caste system in America that defines people by the color of their skin. Wilkerson compares this American system to two other caste systems: the long-standing one in India and the temporary one in Germany during the World War II era. And she describes how Hitler and the Nazis adopted from America how Germany would come to treat their "underclass" Jews like America was treating its Black population. This book was a profound learning experience for me as to the nature of my own country's deficiencies in terms of its current caste system, which is now being aggressively confronted.
The second revelatory book, How the South Won the Civil War, is by Heather Cox Richardson. It provides a detailed look at how political forces, despite the outcome of the American Civil War, evolved into our current classist, racist society, which includes a significant percentage of white nationalists, explaining in part the support for our current administration. After reading this book, I understood better why America is in its current political predicament.
Professor Lichtman's class taught me about authoritarianism, classism, and the marginalization of others by governmental systems, all of which are part of human history, including in our own society. The prettified mythology taught us as students while growing up was insufficient to fully educate us then, but as seniors now, it is not too late to become properly informed. The content described in these two books will help!
---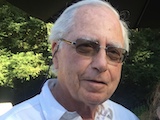 Hugh Winig, MD is a retired psychiatrist and is the author of a book of short stories and a book of humanistic aphorisms. He was a founding Trustee of the Lafayette Library and Learning Center and a past President of the East Bay Psychiatric Association. He has been an OLLI @Berkeley member for 10 years.