December 2015
Even though he admits he had difficulty dissecting fruit flies in ninth grade, playwright Anthony Clarvoe has always had a fascination for science and technology. He calls them "good and bad angels" because, as history has often shown, they have the power to save lives and to destroy societies, to call forth our most complex abilities and to evoke our greatest fears. "And that," he says, "makes them rich subjects for drama. What particularly interests Clarvoe about science is that "it presents us with the moral conundrum of what to do with those abilities. Science has been our great explainer. And it is, or ought to be, our whistleblower, with scientists over the centuries having to deliver bad news about what society is doing to itself."
Students in Clarvoe's course on "Staging Science" this winter will have the pleasure of finding out how this dynamic plays out in the theater. Using plays written by Ben Jonson ( The Alchemist) Henrik Ibsen ( An Enemy of the People), Bertolt Brecht ( The Life of Galileo), Heinar Kipphardt ( In the Matter of J. Robert Oppenheimer), and Michael Frayn ( Copenhagen), Clarvoe intends to show not only how science and scientists are portrayed onstage, but also how much dramatic interest and passion they can evoke.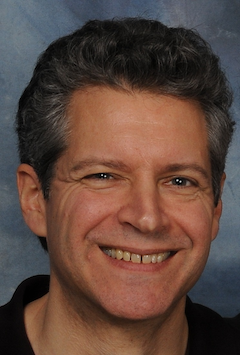 Several of Clarvoe's own plays deal with scientists and engineers faced with dilemmas. Pick Up Ax, for example, is set during the dawning days of high tech and Silicon Valley. Show and Tell is about forensic investigators. Two of the main characters in The Living, his most produced play, which is set during London's Great Plague of 1665, are a doctor and a mathematician.
Clarvoe's award-winning plays have been commissioned and produced by theaters across the United States; he was also commissioned by studios in Hollywood to write screenplays. After many years based in New York, he and his wife Kate -- an accomplished Berkeley-born actress who now manages experiential branding strategy for high tech companies -- returned to the Bay Area five years ago with their younger son. Since then, Clarvoe has taught playwriting and master classes for PlayGround, the Playwrights Foundation, the San Francisco Playwrights Center, Stagebridge Senior Theatre Company, and St. Mary's College.
Clarvoe's Thursday afternoon course at OLLI, "Writing 10-Minute Plays", will be a hands-on workshop allowing participants to develop their writing skills by creating scenes and short plays through the use of dialogue and character. "Older writers have a lot of life experiences," he says. "They have no lack of ideas of what to write about."
A second-generation San Franciscan, Clarvoe grew up in Moraga and went to Campolindo High School. Many of his friends there had dads who worked at Westinghouse and Chevron and who studied engineering or science themselves, and this had an influence on him. Clarvoe is a magna cum laude graduate of Princeton University, where he majored in English. His best friends at Princeton later moved out to Silicon Valley; their stories and experiences contributed to the writing of his play Pick Up Ax. "I learned early on that scientists and engineers do their work with the same creativity and commitment that artists do. I'm fascinated by what happens when that passionate intelligence has to try to make an impact in the larger world."