November 2020
Annice Jacoby is a writer, artist and advocate known for groundbreaking public artwork, including UNDERCOVER, which addressed the homeless humanitarian crisis and City of Poets and Watershed, which praised literary campaigns. She was the editor of Street Art San Francisco, and served as director of public relations at SFMOMA and curator of a street art series at the de Young Museum.
---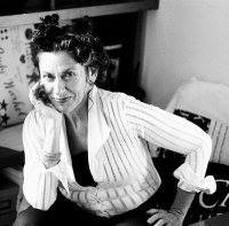 What impact do activist artists have socially, culturally, politically and within the art world?
They were not always part of what you would call the formal art world but they definitely burrowed themselves in. Their work was marginalized and critical and is now mainstreamed. The borderline between artist activism that's criminal or contagious or conceptual or a commodity — all of which is happening simultaneously — is very fluid territory. Almost all of the artists that I'll give a view of in the course — Ai Wei Wei, Suzanne Lacy, all of them — would proclaim that what they do is art; it is not policy. It doesn't have the power of implementation. It is art as perception. It is art as making something out of nothing and art as material exaltation, that gives meaning and makes visible.
So artists have a political responsibility, an intellectual responsibility, a philosophic one. Ultimately artist activists are entrepreneurs now because they have to engineer these very complex projects. Each idea shapes its own results. Artist activists are the opposite of studio artists. They have a different incentive. They engage in new platforms, create their own methods, in their own ways. There's no simple container for how to talk about this kind of creativity because it is constantly changing. It's a living topic and very participatory.
You gave a great OLLI talk in the summer, "Painting the Pandemic." Can you talk about the inspiration behind that?
There was a time in the spring when the pandemic created some positive potentials. Everyone and everything had stopped, creating a pause for collective inventory. I'm not saying it was easy and nobody wanted to be forced to be calm. We all love our freedoms and robust lives, yet the consequence of human activity, our global impact was demonstrable. The minute we stopped nature showed its power. The air was clean. There was no traffic. It was quiet. The pause also created real opportunities for us as individuals to examine our lives and find resourcefulness and creativity within ourselves. People took on hobbies, hands-on making, picked up instruments they'd ignored for years. There was this mood of possibility, of "oh, let's make the most of this," which has been diluted all these months later. People are restless. People are struggling with their health and mental health. They're struggling economically and situationally. The mood of great potential has withered as the mandate for environmental, political and economic renewal intensifies.
The spring and summer were also times of protest.
Exactly. When stores were first boarded up, particularly in response to protests, they created canvases for exciting, amazing creativity of all stripes — styles, content, lyrical, pontifical, all of it. I started cataloging them — calm, chaos, catastrophe, protective, provocative — and that's how I framed it in the presentation. The artists exalt, they heal, they amuse, they sanctify, they put it all out there.
What would you say to members who are intrigued by your course but worry they may need to know more about art?
Art is everywhere and belongs to everyone. No special knowledge or degree required.