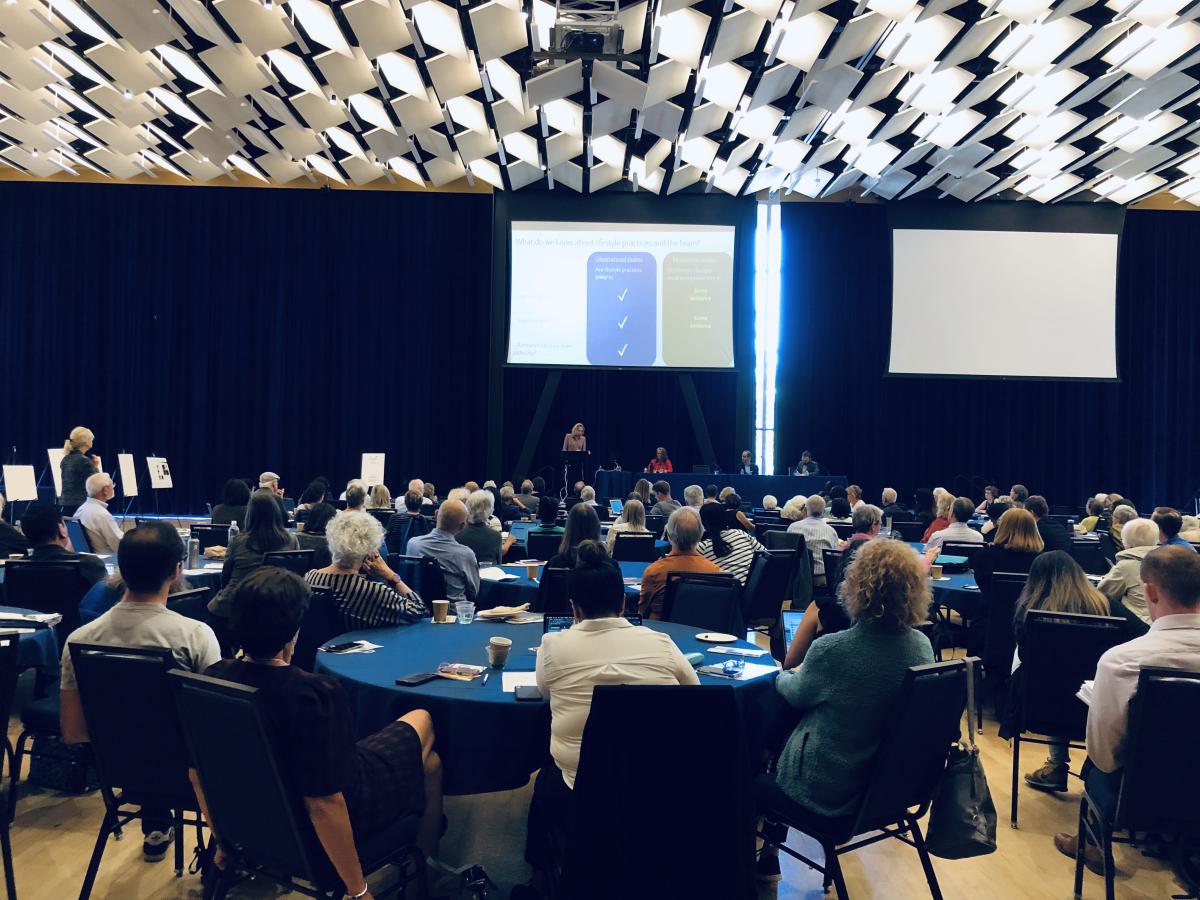 More than 44 million people across the globe live with some form of dementia, a number projected to rise to 135 million by 2050. 
Uncovering the root causes of Alzheimers and other neurodegenerative diseases has consumed and often stymied researchers for decades. As the search continues, the emotional and financial costs to individuals, caregivers and societies skyrocket.
But progress is being made. 
At the second annual Aging Research and Technology Summit held at UC Berkeley on September 17, leading researchers, academics, technologists, caregivers and older adult advocates gathered to present their efforts to confront the crisis of dementia and other brain disorders.  
The theme of this year's summit was "Disrupting Neurodegenerative Diseases." Hosted by the Osher Lifelong Learning Institute (OLLI), and several other UC Berkeley campus partners, it showcased emerging findings and novel innovations as well as fostered a robust cross-pollination of ideas and voices — interdisciplinary collaboration rarely seen at such conferences.
Thomas Insel, former director of the National Institute of Mental Health and co-founder and president of MindStrong Health, delivered the morning keynote. He focused on digital phenotyping, which uses data sets to learn about human feelings and behaviors. "For brain disorders, symptoms are the last things to happen. Digital technologies can provide insights for early interventions." 
Randy Schekman, Nobel laureate and professor of Molecular and Cell Biology at UC Berkeley, spoke about fostering collaboration and resources to better understand the underlying causes of Parkinson's disease. Listen to his presentation on Berkeley Talks.
Panel discussions by academic and industry leaders occurred throughout the day. Susan Hoffman, director of OLLI @Berkeley, led a conversation focused on the role lifestyle factors play in neurodegenerative disease. "People who have been using their brains, taking classes," said Ed Blonz of the Department of Clinical Pharmacy at UCSF, "they are going to have more cognitive reserves." 
John Schwartzberg, clinical professor emeritus at UC Berkeley's School of Public Health, agreed, saying "The more cognitive reserve you have, the less likely you were to develop dementia, even in the presence of brain pathology."
UC Berkeley and global entrepreneurs presented their solutions to meet the challenges of neurodegenerative diseases. Among the speakers were Iain McIntyre, CEO and co-founder of Humm, the maker of the Bioelectric Memory Patch; Coleman Fung, founder of Blue Gogi, which produces interactive fitness; and George Netscher, CEO of SafelyYou, an AI-enabled care program. OLLI members worked with all three of these companies to help further the development of their technologies. 
In a midday address, UC Berkeley Chancellor Carol Christ thanked the participants for advancing the dialogue needed to facilitate the research into learning about the human brain. She pointed out, "We take particular delight in having our retirees and OLLI members participate in this summit. They are our engaged partners in this research and its practical application. It's such a wonderful partnership." 
Watch a short video about the Summit HERE
The Summit was hosted by the Osher Lifelong Learning Institute (OLLI), the Center for Information Technology Research in the Interest of Society and the Banatao Institute (CITRIS), the Fung Fellowship for Wellness and Technology Innovations, the Center for Research and Education in Aging (CREA), the Center for Technology and Aging (CTA), the Berkeley Brain Initiative, and the Center on the Economics and Demography of Aging (CEDA).